About this Host
"Datsuzoku" is one of the DJ aliases of Steve David who hails from Indore, India. Steve started his journey as a deejay in late 2012's in India and few years became one of the founding members of his city's underground music movement. During his career in India Steve played down tempo, deep, progressive, melodic house and techno tunes under his alias 'Sublimation' a duo act. Steve performed in several reputed clubs, music festivals in India where he got an opportunity to perform alongside international and local veteran deejays in the electronic dance music scene like Guy J, Guy Mantzur, Khen, Joseph Ashworth, Patrice Baumel, Dave Seaman, Thomas Gold, Donatello, Animal Picnic, Modd, Jobe, Juliet Fox, Arjun Vagale, Blot, Kohra, Ashroy, Ma Faiza, Vinayak A, Ankytrixx, Nikhil Chinapa, Sanjay Dutta, Reverse Osmosis and many more.
Steve's DJ moniker 'Datsuzoku' is Inspired from the Japanese word which is also one of the seven principles of Zen Buddhism that means escaping/breaking from the daily routine, to discover more creativity. Steve's arrival in Melbourne in early 2019 was one such moment in his life where he decided to continue pursuing his passion of exploring the oddities, rarities and powers of electronic music across an expansive landscape of genres from Jazz to Techno and everything in between to break from his daily routine.
"DIGGIN' DOWN UNDER" is one such show of where Datsuzoku supports eclectic artists, producers, record labels, DJ's, promoters and venues down under and overseas by featuring their music, their story every Friday 10 PM only on Kiss FM Australia whilst featuring a monthly exclusive interview, guest mix of an artist focusing on sub-genres and niches within that eclectic orbit.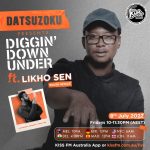 This Friday, 8th July 2022, on Diggin' Down Under, Datsuzoku is back with the Artist Dig of the month where he will be presenting this weeks dose of eclectic selections whilst having an up-close chat with
[…]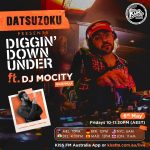 This Friday, 6th May 2022, on Diggin' Down Under, Datsuzoku is back with the Artist Dig of the month where he will be presenting this weeks dose of eclectic selections whilst having an up-close chat with
[…]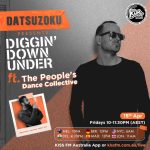 This Friday on Diggin' Down Under, Datsuzoku will be playing some deep and progressive tunes whilst chatting with a very special guest from Melbourne who goes by the artist name The People's Dance Collective (The PDC)
[…]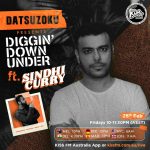 This Friday on Diggin' Down Under, Datsuzoku will be playing some eclectic tunes whilst chatting with a very special guest from India who goes by the artist name Sindhi Curry followed by featuring his exclusive
[…]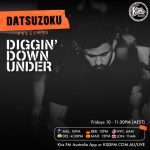 Datsuzoku (Japanese) symbolizes taking a break from the conventions and mundanities of one's life, to discover more creativity. "DIGGIN' DOWN UNDER" is one such show of affectionately curated track selections by Steve under his alias Datsuzoku
[…]
'The Weekend Chug' incorporates a love of music and passion for social issues. Fosters asks the viewer to consider how music and social issues are inexplicably interconnected whilst offering special guests, local and international, the
[…]