KISS FM relies on our Members to keep the Station, and the underground, alive.
Your support helps…
157 weekly volunteers
Keep the station true to its Underground Programming
Maintain live to air studios & the latest streaming & trafficking technologies
Keeps KISS in existence and

fully independent
Members who join for the love of the station are what keep us going, but, because we are an independent station with a sound reputation, we are able to offer some pretty unique stuff in return (I'm in, let me join!)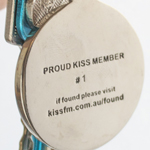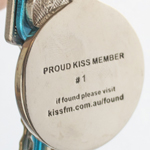 You get stuff like…
A unique Kiss Key Ring to flash for discounted entry, drinks & kudos
DJ? Then take advantage of our member only guest mix slot
Kiss Merch (at family discount of course)
Keep Kiss alive, fully independent and true to the underground
You are directly supporting (and chat with) 157 dedicated & talented DJs
Oh yeah, and…
Take up Guestlist spots, Passes & Invites to events & festivals weekly and all year round.
Kiss Members have been guests of…
Piknic Elektronic / Earthcore / Timo Maas / Dennis Ferrer / Armin Van Buuren / Stereosonic / UDG DJ Bags / RCF Speakers and so on.
Simply select the passes you want during checkout!
Become a member today and help keep the underground scene alive & pumping.
1 Year Membership (annual)

$55 / year
[just over $1 a week]
Includes: Kiss Membership Key Ring
+ Limited edition KISS T-Shirt
Weekly access to
Guestlists & Current Member Offers
Weekly Chart, Recommended Gigs
& Show News

$25 / year
[just over 50c a week]

Includes: Kiss Membership Key Ring

Makes you a Kiss Rookie member

Weekly access to
Guestlists & Current Member Offers
[nb priority to annual & patron members]
KISS Tee for Current Members – $20 each
Current Members please login here first,
then use Discount Code: currentmember
Patron Membership (annual)

Kiss Membership Key Ring
AND Limited Edition T-Shirt

Guestmix | Do a set on KISS

Weekly Access to
Guestlists & Member Offers


Works out at $41.70 / week

Works out at $41.70 / week

Your brand on-air
& online within 48 hours

Your brand around prime spots & the best DJs
Further Info
What does the Membership go towards?
Helps pay for the live to air studio upkeep [in use 24/7] and rents, the transmitters, the tech-know and the daily running costs of a studio support office and production crew, plus 157 volunteer staff
Keeps the station true to its Underground Programming, keeping KISS Independent and Available
Helps us grow the listening reach and invent new methods of coping without the technology available to community and commercial based radio stations.
It also means you can have a say, our Volunteers put Members First in terms of listening to and taking on feedback
Although we are not obliged, we endeavor to reward you with product to the value of Your Membership during the 12 month current membership timeframe. Many current supporters do not require a reward, as the reward is KISS, however we respect both sets of thinking and will continue to endeavor to make this commitment a rewarding and happy one.
Terms & Conditions
GST – All prices include GST.
Membership payments are non refundable, however if you believe an error has been made please contact KISS at your earliest convenience.
(Visited 7,631 time, 2 visit today)