This week we're joined by a hugely talented artist, all the way from Byron Bay we welcome TAYA! A rising star with ties to the Circus Recordings family and his 2nd EP on Bassic Records – Valhalla – just out, TAYA brings the best bits of minimal and progressive outdoor techy sounds in both his production and live sets.  We can't wait to hear what he has for us at Premium Tuna so tune in on Saturday morning from 10:30 AM for a whole 90 minutes of guest selection.
A little more about TAYA:
TAYA has truly weaponized groove, formulating deep, darkened tech-house blended with progressive jaunts. Cultivating his unique sound with the Bassic Records family, TAYA's debut EP "Perception", remixed by Matan Caspi and Thankyou City, earnt huge support and 5 star ratings from Beckers, Cid Inc, Jamie Stevens and tastemakers including Decoded Magazine and Progressive House Worldwide. His January 2018 EP "Valhalla" included remixes by Gabriel Moraes and The Note V, a smooth yet ferocious experiment with low swung drive, has had names like Nicole Moudabber, Soul Button, Hoj and Gab Rhome snatching it up, with a 12 stop national tour just for good measure.
2017 saw TAYA's skill and determination win Beatport's Beat's In School Producer Scholarship with Yousef's Circus Recordings. Consequently, TAYA is the newest member of Circus Recordings alongside a hefty list of the world's most prominent names: Carl Cox, Green Velvet, Jamie Jones, Sasha, Hot Since 82, Joris Voorn, Yousef himself and many more. 2018 is set to be TAYA's biggest year by far, with "Love Get No Enemy" a part of the heavily charting Open Records' "Expansion Pack 2", imminent remixes of Doppel on Bassic, of Pantheon on Ugenius, and of course his fated EP with Circus Recordings.
TAYA's passionate approach has led him to feature regularly at festivals Splendour In The Grass, Falls, Rabbits Eat Lettuce, Bohemian Beatfreaks and Bizarre Garden. It became commonplace to be first choice support for acts including Claptone, Dusky, Jay Lumen, Catz n Dogz, DJ T, Kolombo, Doorly, Flight Facilities and Rufus; additional to residencies and regular slots at Jenja Bali, Elsewhere, La La Land, The Northern and Capulet. The diversity in the TAYA sound blurs boundaries for genre devotees, never failing to have all bodies on the dance-floor moving not matter the setting.
Birthed of the doof scene in the surrounding hills of Byron Bay, Taya was brought up into a life rich with musical influence, experimenting with live music from the tender age of 9, approaching DJing at 13 and immersing himself into the world of production at 15. Playing a big part in the NSW north coast psytrance scene as a teenager, Taya made the move to house and techno at his coming of age. From Europe to USA to Indonesia and time spent calling Berlin and Bali home has exposed him to musing that has lead the way to growth into the modern TAYA sound.
Tour dates: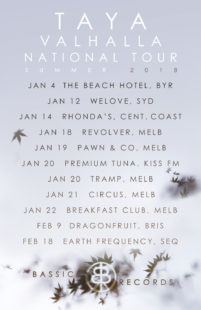 Links:

Facebook: https://www.facebook.com/tayasound
Soundcloud: https://soundcloud.com/tayasounds


More Posts for Show: Premium Tuna