Mumma Trees first began presenting on radio on 6UVSFM while still at school, through getting into dancehall through artists like General Trees, General Echo and roots through Bunny Wailer and Bob Marley.
Journeying to Jamaica in 1991 for a year was transformative.  As a photographer, with backstage and onstage access to Dennis Brown, Freddie McGregor and Gregory Isaacs at Sunsplash cemented a deep love and respect for the music and culture of Jamaica. During this time she appeared as a guest on RJR Jamaican radio station, and had photographs published in the Gleaner. Returning to Western Australia with an obsession for promoting reggae and dancehall music, she became a regular presenter on RTRFM's Jamdown Vershun, along with husband General Justice.
In the years since, Mumma Trees has been active as a reggae promoter, being instrumental in promoting and touring reggae acts while also performing as DJ support for : Beenie Man, Lukie D, Jah Shaka, Gyptian, Earl Sixteen, Cecile, Anthony B, Jah Mason, Etana, Black Slate, Gramps Morgan, Bushman, Richie Spice, Gappy Ranks, Salmonella Dub, and Mixed Relations.
As a DJ selector Mumma Trees has performed live at many regular reggae and dancehall events in Perth, Margaret River and Broome, as well as Melbourne, Byron Bay and Cairns. She played as support for Shaggy in Sydney and Perth, and also for David Rodigan, Don Letts, Konshens and UB40 during their Australian tours. Mumma Trees also performed onstage with Etana in her Perth show.
Mumma Trees teamed up with Sista Che in 2007 to form Western Australia's first all female reggae dancehall sound, running weekly reggae events in Fremantle and Perth.
Bringing her journalistic skills to her passion for reggae music, has meant that interviews with Damian Marley, Ziggy Marley and  Eddy Grant were not only aired on her radio show, but were published in street music magazines.  Other interviews with reggae greats Jimmy Cliff and Toots Hibbert, Mr Vegas, Tarrus Riley….. (and so many more) have been aired on RTRFm in Western Australia.
Mumma Trees continues to co present on Jamdown Vershun – Australia's longest running reggae radio show, and live at various West Australian reggae and dancehall events, and is co-promoter of Australia's longest running reggae festival – Bob Marley Outernational Festival.
You can catch  Mumma Trees live in Melbourne in December at the 2022 Jamaican Food and Music Festival in December.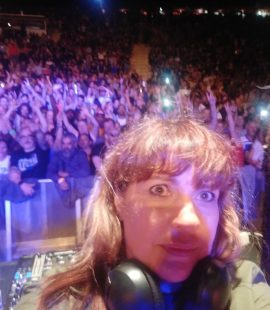 Mumma Trees – UB40


More Posts for Show: Housewife's Choice