FRICTION welcomes KAZUKI from the label LATE NIGHT MUSIC. A new label on the Australian scene, plus Kazuki bringing his Late Night flavours to the Kiss FM audience.
*               *               *               *               *
A purveyor of rhythmic, hypnotic grooves, and a psychedelically charged atmosphere…
From house and disco, to techno and trance, for Kazuki it's all about finding that elusive impeccable beat. A well-known producer, DJ and promoter in the Australian underground electronic music scene, Kazuki puts as much enthusiasm into his own events as he does his productions in the studio.
As a child, electronic music was always in the background with the sounds of John Michelle Jarre, Pink Floyd and Tangerine Dream, but it was an early mixing program included in DJ Mark Farina's 'Mushroom Jazz' mix CD that first introduced him to the possibilities of dance music and DJ culture…
Today that means a heap of club, warehouse party and festival appearances, and time spent in the studio to create and capture the perfect dancefloor vibe.
Kazuki has a string of releases to his name with a couple of albums and various Eps, from tribal house and acid techno cuts to progressive and psychedelic trance stompers across a range of labels including Blind Arc, Khao Records, Ruffbeats, Geomagnetic Records, Parabola Music, Powerhouse, and GOA Records.
He's performed at a diverse array of festivals including Babylon, Psyfari, Dragon Dreaming, Psyland, and even a solar eclipse festival in Indonesia, as well as prominent underground venues such as Revolver Underground and Tramp in Melbourne, S.A.S.H. at Home Nightclub and WeLove at the Burdekin in Sydney, and Mr Wolf, Transit, Lot 33, Clubhouse, Trinity, Kyte and more in his hometown of Canberra – not to mention plenty of secret warehouse parties and hidden outdoor raves!
"Dance music is more than just a style – it's about the experience. For me, you can't go past a dark, pulsing room with a bassline so immense you can feel it in your chest. There's this magical sweetness that you continually chase as a DJ – it's a transcendental space, a special vibe…and when the beat drops at that perfect time, and everyone on the dancefloor is united in the simple fact of just being there in that very moment, it doesn't get much better than that…"
*               *               *               *               *
Check out last weeks episode below to keep you grooving until this Wed at 10pm, and remember to keep tuning into Friction every week as we welcome the following guests up to the Friction waves, including Andrew Wowk, Ben Not, Doppel, Charles Oliver, Christian Kerr, JPA, JPMarzin, Just Bloss, Lask, Mittens, Neil Smith, Timothy Weston.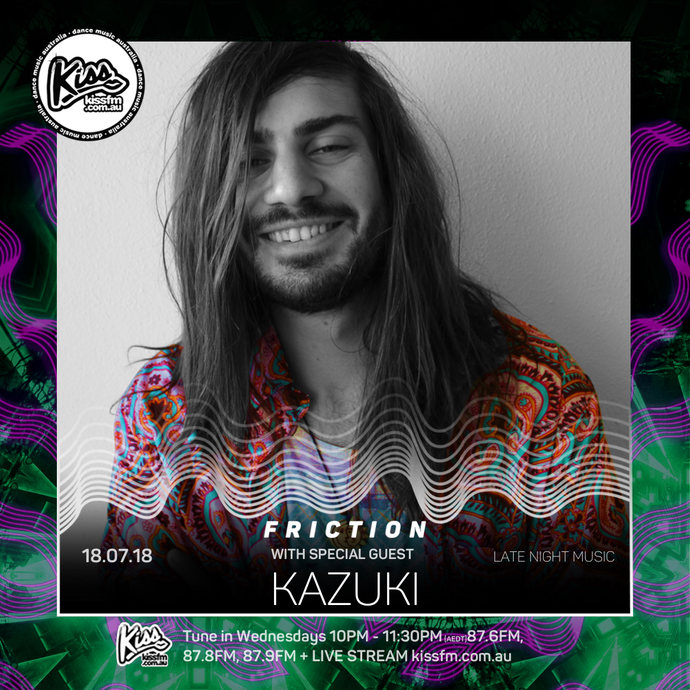 [mixcloud https://www.mixcloud.com/btham/friction-on-kiss-fm-jydn-110718/ width=100% height=120 hide_cover=1 artwork=1]