Please make a warm welcome for Dancehall Specialist Anitra – all round Boss Lady, DJ/Dancer and newest member of Housewife's Choice!
Described by Junction Magazine as "A Musical Powerhouse", Anitra is an expert party rocker and hype DJ. Chill is definitely not her forté, with high energy sets that encompass up to the time dancehall sounds coming out of Jamaica, through to Afro-house and related beats. Expect a full mind-heart-body-and-soul workout on the dancefloor when Anitra is at the controls!
Hailing from Matakana, a small winery beach town in the North Island of New Zealand, Anitra was born into a talented family of musicians so with music and dancing in her blood, she grew up to perform in musical theatre and study a Bachelor of Performing and Screen Arts in 2008, specializing in contemporary dance, followed by ten years working as a freelance dancer and counting, performing in shows right across Australasia. She is known to pick up a guitar and get creative in many different ways too, bringing other skills into her repertoire such as piano and loop pedal, and in more recent times, she has also found her singing voice.
Anitra's professional dance career has taken her across the globe to perform in many amazing places, while simultaneously working in education, teaching dance. It was while working in India on a series of Bollywood films, T.V ads, live shows and music videos that she fell in love with her surrounds, which kept her there continuously for the last 4 years. During that time she also discovered a new-found love for Dancehall, becoming a regular patron at a club night where she could set her heart free on the dancefloor. But it wasn't long before she found herself on the opposite side of the dancefloor – behind the decks! Her creative talents know no boundaries and Anitra's DJ career launched her head first onto major festival line-ups and huge club nights in a very short time. It is in India too, the land that has provided her with so much already, that Anitra forged an instant sister-hood bond with Miss Fee & Bellyas while they all performed at Goa Sunsplash in 2020.  Without reservation, she has continued to travel and perform on international stages before setting her sights on Australia in 2021 in pursuit of her musical passions, and here, she has reunited with Miss Fee & Bellyas to complete the holy trinity – Housewife's Choice.
Anitra brings a new dimension to Melburn's Original Fire Lady Sound, adding a triple threat to Housewife's Choice, now with over 50 years of experience and many talents between them.
You can catch Anitra playing out around Melbourne city, as well as on regular rotation alongside Miss Fee & Bellyas on Housewife's Choice Radio Show which airs every Sunday from 10:30am right here on KISS FM Australia, AND at Housewife's Choice DJ and Sound System events.
Follow Anitra @ www.instagram.com/anitra.xx
Follow Housewife's Choice @ www.instagram.com/housewifeschoicesound/
For Sound System Bookings email: fee.hwc@gmail.com
Anitra shells down the Croxton Bandroom on Housewife's Choice Sound System @ Forward Ever, Melburn Australia 04.12.21
Photo by Francesco Vicenzi: Forward Ever – A Celebration of Sound System Culture – Anitra turning up the heat on Housewife's Choice Sound System. Alongside Adrians Wall, Solidarity Sound System and Sub Temple Sound System 04.12.21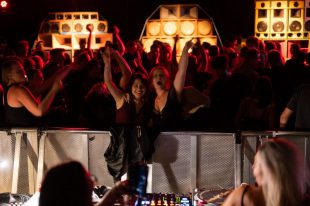 Housewife's Choice link up – artist area: Goa Sunsplash, India 2020 – Anitra, Miss Fee & Bellyas left to right.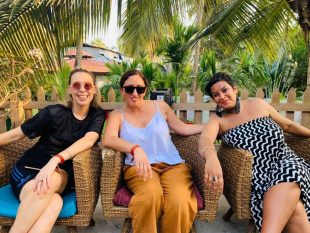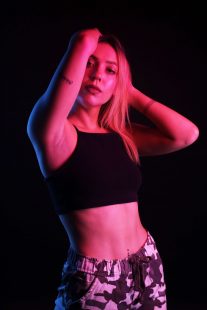 More Posts for Show: Housewife's Choice