FRICTION welcomes CASPIAN  from TECHNICAL THREAT to the Friction guest honours. Caspian is one of Melbournes finest techno DJ's and when we say Techno, we mean proper industrial techno. Catch him on the guest mix this Friday with some hectic chaos that will drive your senses to the wall.
*               *               *               *               *
CASPIAN
(TECHNICAL THREAT)
Caspian is a man with a long and detailed musical backstory. His creative career has been a vast chasm of rich aural history that spans many different skill sets, talents, and genres. In addition to his many active contributions with Melbourne's techno and house community – whether it be through hosting event nights, running a TRNSMT show of his own, or working with several music collectives – he also has past experience as a guitar player, DJ, and a singer/composer. 
Caspian resides in Melbourne currently, and is warmly accepting of this city as his favourite place to be, and as the years roll by, He has been gathering huge momentum as a promoter and DJ who is strictly dedicated to top-shelf aural quality, and a unique & engaging musical style. 
As a DJ, Caspian's versatile grasp of electronic genres knows no bounds and you will often find him pushing the sonic boundaries of a dance floor. By blending together a variety of sounds and styles into one fully formed amalgam of creativity: a performance from Caspian is a dynamic and original musical tour de force that is full of imaginative, energetic and interesting tunes alongside his superbly skilful technical mixing. Not one to shy away from phonic exploration, he often plays disco, electro, leftfield electronica, house, and techno tracks within his sets – and on occasion has been known to play drum & bass and jungle, too. 
In addition to being the co-organiser of Melbourne's Kontrast Collective, alongside Sandra Sundelin, Caspian is also the founder of the TRNSMT radio show, event crew, and musical collective that's known as 'SUPER ENJOY'. Originally created in November of 2014, SUPER ENJOY aims to place a strong focus on creativity and imagination – showcasing a wide range of forward thinking, thought provoking, and expressive electronic music. The TRNSMT show has primarily been hosted by Caspian himself, with the occasional guest DJ heading in for a guest slot from time to time. Previous SUPER ENJOY events have taken place within the confines of some of Melbourne's best venues, such as Ferdydurke, Boney, and Section 8, and all have featured guest DJs that are considered to be some of the most talented underground DJs in Melbourne. 
Notable performances from Caspian include his sets at Darkbeat, Mahala, and Stable Music's Summer Series. He's also had the good fortune to play supporting sets for the likes of Hobo, Randomer, Deadbeat & Tikiman, and Apparat. And with a rich and heavy history of DJing in Melbourne, he has a wide list of nightclubs and venues to his name, featuring such names as: My Aeon, Revolver Upstairs, Section 8, and Boney. 
With his years of experience behind him, a foot planted firmly within the local electronica community, and boundless enthusiasm and limitless creativity – Caspian is one of Australia's foremost rising artists who demonstrate that a rich and expressive past is the gateway to a burgeoning, successful musical future.
*               *               *               *               *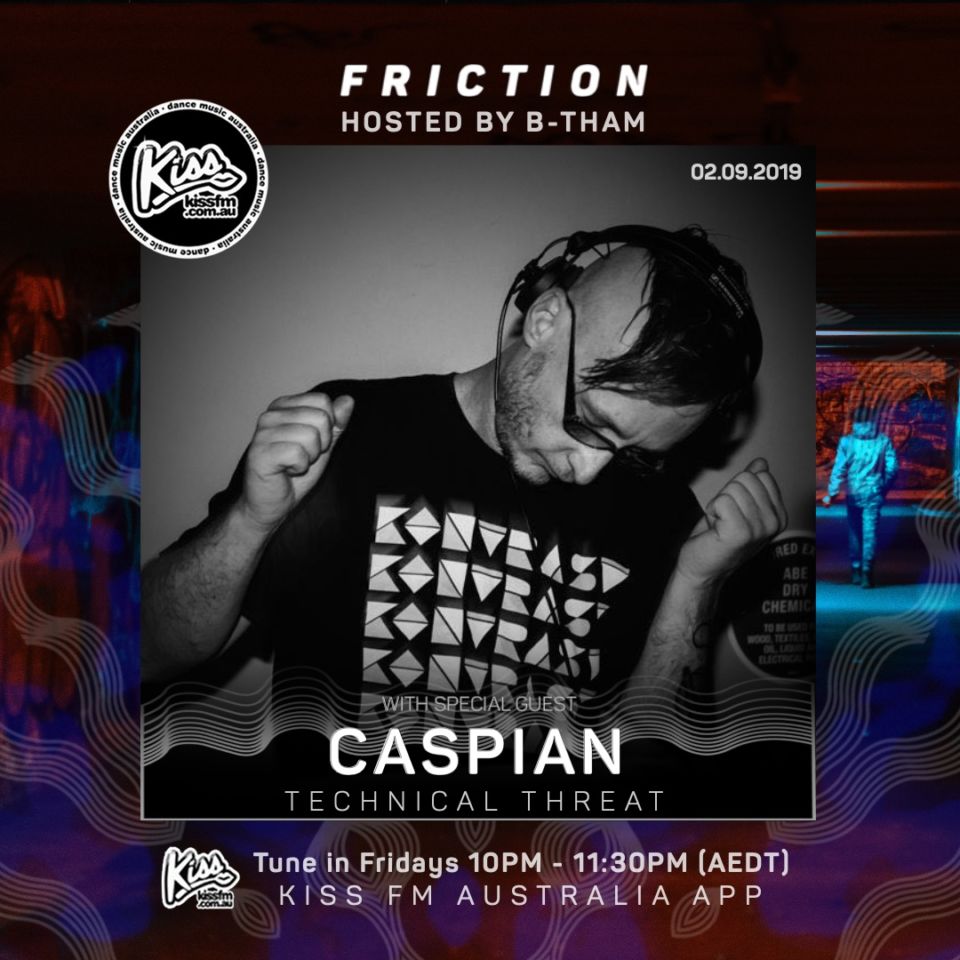 Remember to keep tuning into Friction every week as we welcome weekly guests up to the Friction waves.