FRICTION welcomes AARON SMILES to the Kiss FM airwaves. Aaron is well known in the industry and is a great mentor to many. We chat to him about the scene and what he is up to with his event iN held at Sooki Lounge over in the Hills.
*               *               *               *               *
AARON SMILES
(iN)
If you've been kicking around the Melbourne underground dance scene for the past two decades, chances are you've heard the name Aaron Smiles. Whether its stirring up the dust of one of the numerous bush parties, rocking until the wee hours in a sweaty club or dancing till your legs don't work anymore at the after party. this International man of leisure (as he is so fondly known) has been a driving force in the Australian dance scene since its beginnings in the '80s. Ever since he kicked off his DJ career at the tender age of 14 by blitzing the Black Market Bedroom DJ Competition (he even had to be snuck in the back door) Aaron hasn't looked back, playing a part in the birth of major International festivals and lifestyle events like 'Rainbow Serpent' and 'Earthcore' as well as Melbourne clubbing institution 'Sunny'. Since those early days he hasn't looked back, touching the hearts and minds of thousands of dance floors both around Australia and the World. Playing nearly every major club, party and festival that Down Under has to offer and supporting the likes of International superstars including Son Kite, Minilogue, Perfect Stranger, D-Nox and numerous others. Add to this guest presenter spots on Kiss FM, Triple J, R.R.R, E.C.B and Street FM as well as mixing the soundtrack to the Australian dance music documentary "Wonderland" in 2006, and there isn't much the Smiley man hasn't accomplished. Aaron's philosophy on music is simple, he just wants to free everyone up. Let go of the genre, let go of what you think is 'cool' or 'un-cool' and let go of your ego!! Aaron just wants you to dance and have as much fun as he is having. Whether its driving techno, funky electro, atmospheric trance or spacious chill and dub, it's this philosophy that sees Aaron traverse through the whole gamut of electronic music styles (often in one set) and allows him to be programmed for practically any DJ set at a party. You could keep going on and on about Aaron and what he has done over the past 20 years but the easiest way to understand just what he means to Aussie dance music is to get on the dance floor and share in the magic yourself. It's an experience you won't be forgetting anytime soon.
*               *               *               *               *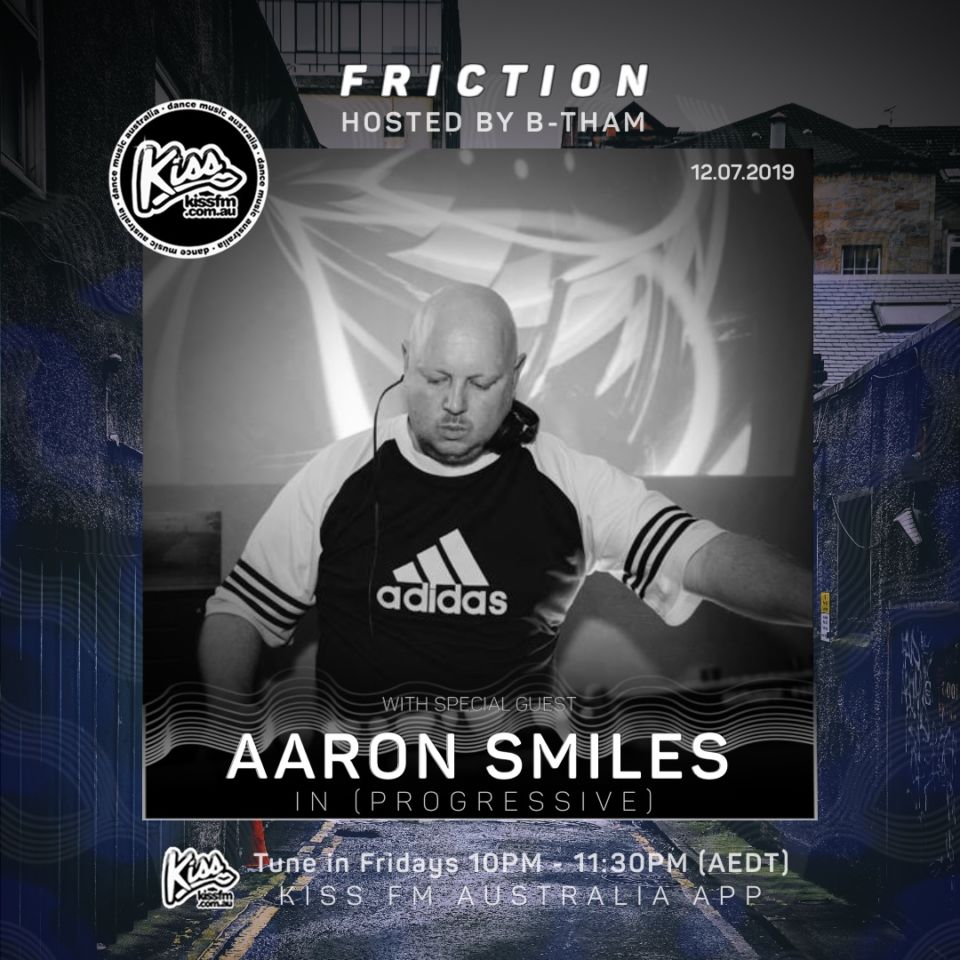 Remember to keep tuning into Friction every week as we welcome weekly guests up to the Friction waves.