FRICTION now into 7th week is on fire and going strong, already featuring guests each with their own eclectic sounds. This week is no different as Friction extends the invitation to bring in one of Brisbane's heaviest hitters in the techno, house and prog scene…. JESSE KUCH from Open Records.
*               *               *               *               *               *               *
Jesse Kuch is a journalist, DJ and the brains behind pioneering Australian electronic music imprint Open Records.
In the 11 or so years since the label launched, Jesse has spearheaded more than 60 releases from artists from Australia and across the globe, including the hit compilations Slow-Release, Festivus and Expansion Pack II.
Along the way, Jesse has established himself as one of Queensland's most experienced and toured DJs, playing premiere Aussie festivals like Rainbow Serpent, Subsonic, Strawberry Fields, Earth Frequency, Eclipse 2012 and many more, alongside countless club shows and support slots for the biggest names in house, techno and electronica.
Fresh from the chart-busting success of Expansion Pack II in first days of 2018, Jesse has been super busy in recent months with highlights including hosting the Sunday techno and house session at Earth Frequency Festival and being handpicked to open for Carl Cox, Nastia, Paco Osuna and Eric Powell at the Brisbane edition of Pure at Family.
Stay tuned for a bunch of fresh new tunes coming soon on Open Records including fresh sounds from Luke Chable, Doppel, Pantheon, Nukreative, Switchbox and many more.
*               *               *               *               *               *               *
Friction is well excited to have Jesse Kuch on for a guest mix, and to chew the fat as we discuss whats coming up for Jesse and Open Records.
Check out last weeks episode below to keep you grooving until this Wed at 10pm, and remember to keep tuning into Friction every week as we welcome the following guests up to the Friction waves, including Doppel, Fourthstate, Kazuki, Le'bruh, Marcotix, Morbs, Nick Reverse, @Philt3r, Timothy Weston, Tranceducer.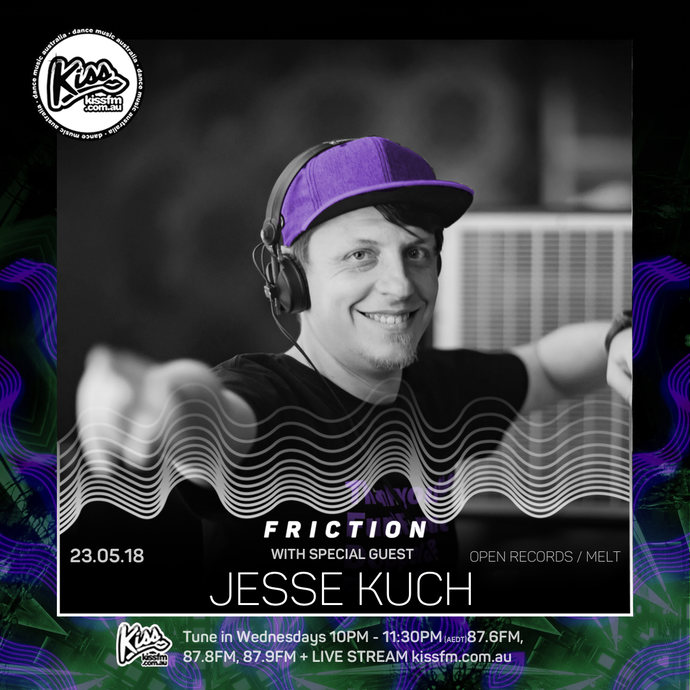 [mixcloud https://www.mixcloud.com/btham/friction-on-kiss-fm-sundelin-160518/ width=100% height=120 hide_cover=1 artwork=1]


More Posts for Show: FRICTION