STRICTLYOZ INTERVIEW "DJ TYPHONIC" 2016 VICTORIAN DMC CHAMPION
Tune in This Tuesday as Cook & Dip chat with the winner of the 016 Vic DMC Finals "DJ Typhonic" and give away a double pass to members to the National Finals in Melbourne 9th September, so Tune in Join to be a member and Win today!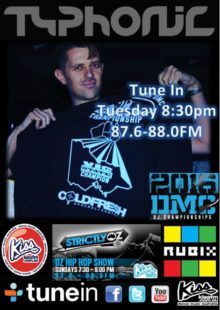 The first Australian to be signed to legendary Detroit Ghetto Tech and Booty label Databass, Typhonic is no stranger to making heads nod and dancefloors bounce.
His amazing prowess as a turntablist helped him scratch and juggle his way to Red Bull Thre3style Champion 2011, 2012 and Runner up in the 2008 NSW heats of the Australian DMC championships. A three time Top 5 place getter for the inthemix.com.au top 50 DJ's poll from the ACT, he was also one of 40 selected from around the world to participate in the Red Bull Music Academy in Sao Paulo, Brazil in 2002.
A bass loaded party rocker. From electro to dubstep, ghetto tech to drum and bass, Typhonic has integrated turntablist tricks and flashery to music few ever attempt, and even fewer get close to pulling off.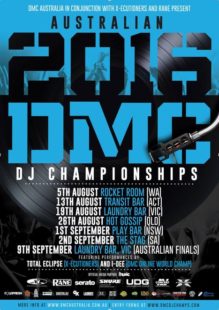 More Posts for Show: Strictly OZ HipHop Show