We welcome another guest on Premium Tuna this Saturday, hailing from the nation's capital – Canberra City. Whilst down south for the Melbourne leg of his tour, B-tham will be stopping by to spin a few yarns as well as some prime (minister?) tune selections. Catch us from 10:30AM this Saturday morning.
More about B-tham:
B-THAM is one of Australia's well known Techno/Tech-House DJ's, playing at iconic venues such as Revolver & Tramp Bar in Melbourne, The Burdekin Hotel, Zoo Project, Slyfox & Ivy in Sydney, Capulet in Brisbane along with Academy, Mr Wolf, Transit Bar & Kyte in Canberra his home town and playing for well respected crews and festivals such as SASH, Subsonic, Dragonfruit, Rabbits Eat Lettuce, WeLove, Dragon Dreaming.
Hailing and still residing in the Nations Capital of Australia, B-THAM originally started DJing in 2005 and has a plethora of skills that keep him busy. Including Radio Hosting, Producing, Mentoring, Teaching, and all this while still having time to run the infamous Canberra crew Department of Late Nights, where he passes Techno Legislation as the Minister. B-THAM and the DoLN crew run secret warehouse events, club nights and general support to the Canberra Techno industry including forward thinking ideas & events.
B-THAM is a committee member of Keep Canberra Open that successfully overturned implementation of lockouts in the state of ACT and moving forward with progressing pill testing in bipartisan with the ACT Government at local Canberra festivals.
To date he has spilt blood alongside worthy international allies like Steve Lawler, Sebastian Leger, Miro Pajic, Noir, Anthony Pappa, Desyn Masiello, Slam, Nick Curly, Chris Fortier, Kazu Kimura, D.Ramirez, Robert Dietz, all with many more to come.
Have you heard B-THAM?
Tour dates:
FRI 24TH NOV – REVOLVER UPSTAIRS, MELBOURNE
SAT 25TH NOV – PREMIUM TUNA, KISS FM
SAT 25TH NOV – TRAMP BAR, MELBOURNE
SUN 26TH NOV – CIRCUS, ONESIXONE MELBOURNE
MON 27TH NOV – BREAKFAST CLUB, MELBOURNE
WED 29TH NOV – EVTEK, GOODBAR SYDNEY THU
30TH NOV – EVERYTHING TEK, BONDI RADIO FRI
1ST DEC – WELOVE, BURDEKIN SYDNEY
WED 6TH DEC – MONOS, OXFORD CIRCUS SYDNEY
SAT 16TH DEC – DEPT. 2ND B'DAY, CANBERRA
THU 25TH JAN – CIRCOLOCO, MELBOURNE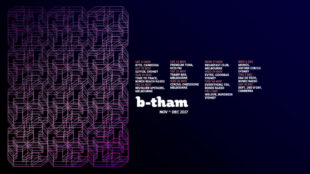 Links:

Soundcloud: https://soundcloud.com/b-tham
Facebook: https://www.facebook.com/djbtham
iTunes: https://itunes.apple.com/us/podcast/b-tham-presents-4sound/id913557754


More Posts for Show: Premium Tuna