This week on Who Loves Radio we welcome a very special international guest mix by one of our most respected artists, Pauke Schaumburg (DE).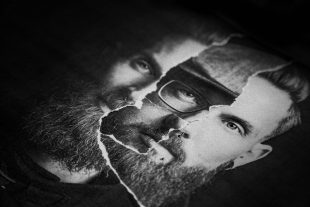 Pauke schaumburg is a duo consisting of Nils Noben and Ken Lohmann who are based in Rinteln & Sachsenhagen in Germany.
Nobby and Kenno grew up in a small county town called Schaumburg, near Hanover (Lower Saxony, Germany). A few years ago they were known as Solo-DJs in local clubs and private parties, so it took a little time and a good bottle of absinthe until they finally decided in 2010 to work together behind the mixer. That's when "Pauke Schaumburg" was born.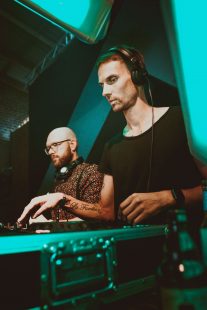 Ken (left) & Nils (right)
At that time their musical taste was influenced by the sound of the mid-nineties: techno, house and hard trance played a major role in Kennos and Nobbys record rack. Gradually developed the typical sound of Pauke Schaumburg: melodic stuff with influences of techno and deep-house. Whether straight or playful: their philosophy is that it has to make you dance!
After humble beginnings from when they first formed in 2010, they have since landed themselves on some pretty influential labels such as Diry Doering's Mukke, Einmusik's Ein2 and Gabriel Anandas Soulful Techno Records (just to name a few).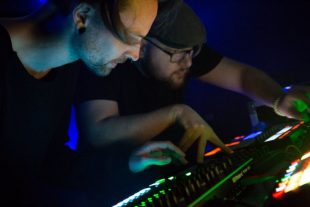 Performing at Trampolinmusik Trifft Beatamines event, March 2017
They consistently impress us with their driving and melodic techno sounds as well as excellent productions that are tailored for a perfect club experience, with their productions making regular appearances in the underground electronic scene.
They have put together a special set showcasing solely their own productions and we also used the opportunity to ask them a few questions to see what this Duo is all about.
Hey Nobby and Kenno, thanks for your time. You both have a history as solo artists before you came together as Pauke Schaumburg in 2010. How did your sound come together in the early days and how was it transitioning from solo artists into a duo?
Ken: Thanks to you for the interview and the opportunity to introduce our podcast.
Well, it wasn't so easy at first when we got together. Back then I came from the Deep and Techhouse scene and Nils heard more the technoid sound. But in the end we met in the middle. But in some sets you can still hear it.
Your productions are characterized by driving synth melodies and grinding powerful bass lines. can you tell us a little bit about your work flow in the studio? And do you set the intention to create a certain mood for your songs or does the sound rather come to you through jamming?
Ken: Mhhh, of course you already have a basic mood when producing, but I don't light 20 candles before I produce a melodic track (laughs). It's not like that. . .
There are different approaches in the studio. Ideas can arise while jamming or we work out a special part. This can be a few chords or even a melody on which you build everything else. Just the way you like it. That's the great thing about electronic music. Everything is somehow possible.
What genres influence your sound the most and what inspires you outside of music?
Ken: For my part I come from the trance scene in the mid 90s.
That has already made a big impression on me. Outside of club music I like to listen to film music, among other like Hans Zimmer or Steve Jablonski. But of course I also listen to music from other genres.
Nils: What inspired me most was a DJ set from 1995 with Mark Spoon at the HR3 Clubnight. It's just amazing what that guy tore off.
As mentioned before, your sound is very club tailored and does take your listeners on a journey. When djing, what slots do you like to play the most and do you create different atmospheres at festivals or open airs compared to club nights?
Nils: Well, it does make a difference whether we play at 3am in the club or at 9pm at an open air. Of course you have adjust your sound to it.
But for the typical Pauke Schaumburg sound an open air gig somewhere between 6 and 11 p.m. is the best choice. Or of course: at sunrise.
Apart from your impressive list of releases, you also got yourselves remixes from Marc de pulse, Tim Engelhardt and Mattia Pompeo under your belt to just name a few. How do remixes of your own tracks influence you in hindsight and who would you like to work with in the future if you could pick any artist?
Ken: It's always interesting to be remixed. You're always curious to see what comes out of it. But the other way around. You always learn new things about producing. Because, everyone has his own peculiarities when creating a track. That's very exciting.
There are really many artists we would like to start something with. The list would probably be too long for this interview. Sorry, no namedropping…
Your latest release is the 3000 EP on BeatFreak Recordings with a beautiful remix by D-Formation. What can we expect from Pauke Schaumburg in the near future and also in 2019?
Nils: Yes, we think the 3000 EP is quite popular. And D-Formation did a really good job on his remix.
We will continue in October and an EP will be released on DANTZE, which was developed in cooperation with our good friend LESEMANN. We're really looking forward to it. Besides, it's gonna sound a little different than our previous releases. 2 tracks are included in the podcast by the way. . .
To wrap things up a few quick questions about some records:
All time favorite?
Ken: Difficult, but Extrawelt – Titelheld is one of them
Nils: Push – Universal Nation
A record that works every time?
Ken: Gabriel Ananda, Maceo Plex – Solitary Daze
Nils: Innellea – Lilith always works
A track that influenced your sound profoundly?
Ken: I can't make out on a track. These are rather the older vinyls: Energy 52 – Cafe del mar, Binary Finary – 1998 etc. Even the very old things from RMB have somehow influenced me.
Nils: Cant tell. There are so many.
Most impressive release in 2018 for you?
Ken: Magdalena – Nautilus
Nils: Definitely Nautilus from Magdalena.
Both: Thanks to you guys and all the best.
You can find Pauke Shaumburg on Soundcloud at:
And you can hear their guest mix this Tuesday September 11th for Who Loves Radio on Kiss FM from 6-7pm.