FRICTION welcomes LASK foriginally from Melbourne and now based in Berlin, signed to LO-FI 45 and RECOVERY COLLECTIVE. Kiss FM and Friction are excited to see what Lask has been digging in her recent collection of tunes from being in one of the techno hubs of the world.
*               *               *               *               *
LASK
(LO-FI 45 / RECOVERY COLLECTIVE)
Lask has always had a passion for music. After playing instruments and composing for 5 years, she started producing at the age of 18. After spending years in the studio with very little social interactions, she started to feel detached and thought there was a bridge needed between her production life and her social life. She started Djing at events in 2016 and quickly climbed up the Melbourne DJ circuit. In march 2017 she released her first Ep with Smash Bang records titled 'Aurora'. In July 2017 she featured on Suckmusics 'In the clubs, Volume 9' with her eclectic, soft yet driving single 'Charlie'.
In feb 2018 she featured on Recovery Collectives VA ALLIANCE with her electro-house inspired track 'D-EQ', In march 2018 she released her second Ep on LO-FI-45 titled 'Instincts/Warriors' which showcases her maturing sound, complimenting her growth as an artist and an individual. In a short amount of time She has played for the likes of; Secret cinema, Dj Lion, Morten Granau, Upgrade, Tim Englehardt, Tetrameth, Waveback, Exrtawelt, Alex Stein, Guy Mantzur, Hernan Cattaneo, Dave Seaman among many others.
Lask's Inspirations come from her experiences, whether it be sunrises at Burningman or lasers in the Aussie bush. Her sound can be described as dark, Desert Inspired Progressive Techno but also etches on the sweeter more melodic tones depending on her surroundings.
*               *               *               *               *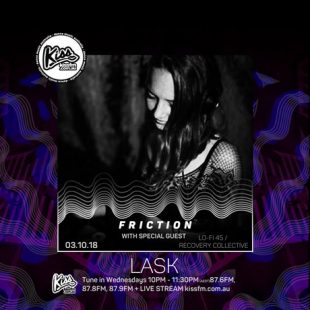 Remember to keep tuning into Friction every week as we welcome the following guests up to the Friction waves, including Dave Juric, Fütwerk, Liam Sieker, Luke Lawrence, Moskalin, Ok Sure, & Suki.