FRICTION welcomes JUST BLOSS from Melbourne crews Frontline and The Hideaway Club. Just Bloss is one of those DJ's that just has a general sense of happiness every time you experience her styles. And in the words of Just Bloss, be prepared for some bangers!!!
*               *               *               *               *
JUST BLOSS (FRONTLINE/THC)
Born & raised in country WA, Just Bloss was obsessed with 90's dance music, making mixtapes on her cassette recorder from the radio. As she moved to Perth in her late teens, breakbeats and DnB were her introduction to the electronic music scene – which has made a very deep impact on her musically, even still today.
Moving to Melbourne six years ago she developed an obsession with house, techno, disco – focusing on producers of musical and melodic tunes.
Known as the "Queen of Spotify" among her friends – Just Bloss has curated over 50 playlists in every genre you could imagine.
After years of honing the technical side of DJing at house parties, earlier this year she took her talent to the club. Her tune selection and ability to move a room hasn't gone unnoticed by punters and promoters alike – and having been booked for every major Chapel Street venue this year, she is one to watch out for.
*               *               *               *               *
Check out last weeks episode below to keep you grooving until this Wed at 10pm, and remember to keep tuning into Friction every week as we welcome the following guests up to the Friction waves, including Andrew Wowk, Ben Nott, Charles Oliver, Christian Kerr, JPA, JPMarzin, Lask, Mittens, Neil Smith, Timothy Weston.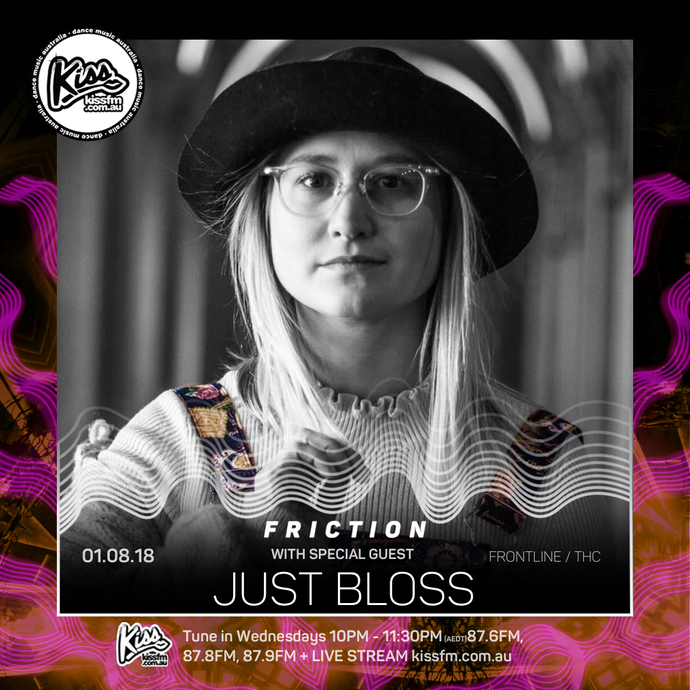 [mixcloud https://www.mixcloud.com/btham/friction-on-kiss-fm-doppel-250718/ width=100% height=120 hide_cover=1 artwork=1]