FRICTION welcomes JPMarzin, from the The Hideaway Club and Frontline crews, always with a jam packed collection of tunes and just an all around lover of music. JPMarzin comes to the studio for a chat and
guest mix this Wednesday.
*               *               *               *               *
JPMarzin 
(The Hideaway Club / Frontline)
Born and raised in the inner parts of south east Melbourne, JPMarzin grew up intwined in music with his father performing in bars and clubs all over the city since the late 1960's. Destined to be a musician himself, JPMarzin was trained in piano, guitar and bass, then made his mark with over 15 years experience in Melbourne's live music scene as a professional drummer.
He made the transition to electronic music in 2016 and is now working dance floors on the path of the producer/DJ.
Known for his eclectic taste in music from classical to metal, rap, hip hop, disco/funk, house/techno, and for his understanding of musical composition & an endless sense of rhythm, his sets are constantly evolving and always full of life. You will find JPMarzin front and centre at many of the music festivals or techno parties around Victoria, and as a weekly resident DJ at The Hideaway Club, Circus Bar & Nightclub and Frontline Music Melbourne. He also performs regularly at clubs such as Killing Time, Less Than Zero and Greenwood Loft, just to name a few.
With his musical experience, passion for people & his boundless amount of energy, JPMarzin is definitely an artist to watch out for!
*               *               *               *               *
Check out last weeks episode below to keep you grooving until this Wed at 10pm, and remember to keep tuning into Friction every week as we welcome the following guests up to the Friction waves, including Andrew Wowk, Ben Nott, Charles Oliver, Christian Kerr, Lask, Mittens, Neil Smith, Timothy Weston.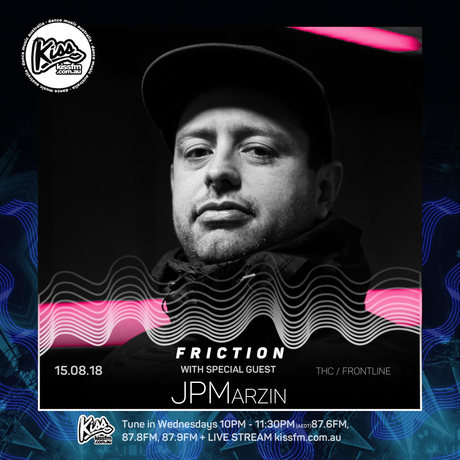 [mixcloud https://www.mixcloud.com/btham/friction-on-kiss-fm-jpa-080818/ width=100% height=120 hide_cover=1 artwork=1]


More Posts for Show: FRICTION