FRICTION welcomes HUGOE from Melbourne crew PELICAN VILLA, straight off burning seed and ready to bring on summer. Hugoe comes in for a chat and tells us whats vibing in his world.
*               *               *               *               *
HUGOE
(PELICAN VILLA)
Hugoe is a Melbourne based Melodic Deep House & Techno vibe connoisseur quickly busting his way into the scene with a smile. He has spent the last 4 years curating his sound in various different countries, yet the most exciting of the list is his time spent managing an underground Techno club in Japan, where he discovered a love for dark and ominous sounds mixed with ambient field recordings and textures with an analog feel.
These are the sounds of Hugoe.
*               *               *               *               *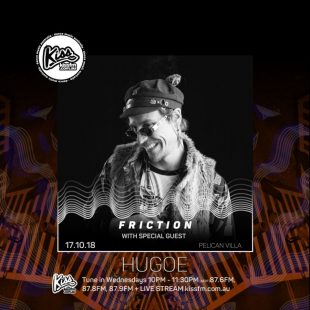 Remember to keep tuning into Friction every week as we welcome the following guests up to the Friction waves, including a 2 hour special with ANTHONY PAPPA from Global Undergorund, plus Dave Juric, Fütwerk, Liam Sieker, Luke Lawrence, Moskalin, & Suki.


More Posts for Show: FRICTION