FRICTION welcomes one of the World's rising stars, DMITRY MOLOSH from Belarus. In light of recent news of his AUS tour being postponed due to Covid-19, Friction has teamed up with Morning After to bring you an exclusive mix from Dmitry for Australia and more specifically, Kiss FM.
Friction's host B-tham got the chance to interview Dmitry last week check it out below. A big thank you to Dmitry Molosh for taking the time to have a chat and provide the Australian people with a guest mix. And our thoughts are with the Morning After crew who always provide such a magical space every Good Friday for Easter.
Be sure to catch Dmitry's set at 9pm (AEDST Melbourne) this Saturday. Dmitry also has a few kinds words for everyone here in Australia.
" I want to send my blessings to my fans and friends in Australia and all around the world, stay healthy and positive. I'm very thankful for the continuous support and I'm really looking forward to my first tour of Australia, it will be worth the wait " – Dmitry Molosh
 *               *               *               *               *
Interview with Dmitry Molosh
What's been bubbling away in the studio, and what releases do you have forthcoming?
This season I have releases on Replug and Sudbeat coming up as well as remixes for Blufin, OneDotSixTwo, Proton and Univack, while I'm currently working in the studio aiming to release on other prolific labels.
What new projects have you been working on which are exciting you?
2020 is meant to be the year of collaborations. Expect collabs with Cid Inc, Michael A and Navar.
What are some artists that influence you currently?
Guy J had the biggest influence when I started my career; his sound changed my taste for electronic music significantly. Back then I was into Electro House, but after I discovered Guy J's productions, I became heavily interested in Progressive House. I got immediately obsessed with atmospheric, cosmic and deep melodies. 
By now, I like a many producers: Nick Warren, Hernan Cattaneo, Guy J, Roy Rosenfeld, Khen, Guy Mantzur, Cid Inc, Kasper Koman, Nicolas Rada, Alex O'Rion, Michael A, Navar, Eli Nissan and many others.
What software do you use to produce your music? 
I started my career with Fl Studio, but for more than 10 years I have been working with Ableton.
Do you have any hardware synths? If so what? 
Not too long ago I sold my Virus Ti and bought Nord Lead 4, but after a while I regretted that move. Unfortunately I was too impulsive, I should have been more careful.
What's one of your favorite plugins VST's that you use a lot?
I have been using several VSTs for a long time: Zebra, Omnisphere, Sylenth and Diva. Most of my tracks were produced using them.
For information, I use Native Instruments and Waves.
What's coming up for you in relation to bookings?
I was supposed to perform in Manchester and Amsterdam on the coming weekend, and had my Australia debut tour including Melbourne and Sydney scheduled for the Easter weekend, but everything got cancelled due to the global outbreak of the Corona Virus. Manchester has been postponed to August and Australia might move up to the last quarter of 2020, while my agent is currently trying to arrange a make up date for Amsterdam.
We have tour plans for Asia in June and Argentina / South America in July, but basically everything is on hold for the moment as we are waiting on the developments in regards to the COVID19 crisis.
With everything shutting down for Covid-19, how is that affecting your bookings?
Following up on the previous question and answer, I'm very sad about these negative developments. This situation heavily affects our industry as well as many others. The whole world is going through very, very difficult times. All of my March, April and May dates in the UK, the EU and Australia have been cancelled (and are being rescheduled). Even my gigs on Belarusian home soil in Minsk and Gomel were cancelled due to new restrictions introduced by the Ministry of Health, nor am I able to organize my own parties, which I run under Lotus Events.
I was about to start working with a new venue in Brest, my home town, and was supposed to play the opening night in April. Cid Inc was planned for May to perform my event as international guest, but now everything is off – at least for a good while. I'm sad and upset at the same time, but in the end it is out of anyone's control. Usually I live very well off my fees as touring artist, but without income for several weeks if not months, I'm getting more and more concerned. I believe many artists (and also promoters and other industry professionals) are in a similar situation these days.
What will you do if things really slow down for 3-5 months?
This scenario is on my mind for the last couple of days. I will spend the extra time to rearrange my studio, focus on my collaborations, originals and remixes.
Furthermore, I will have also more time for my girlfriend, family and cat.
I love football and my favorite club is Liverpool, but as you have surely noticed the Premier League (among many other European football championships) have suspended their operations and even the EURO has been moved to next year, while luckily the Belarusian football championship has just started it's new season.
 *               *               *               *               *
DMITRY MOLOSH BIOGRAPHY
We are in the midst of a progressive house renaissance;of that there is no doubt. And at the same time as this rebirth, a new star has been born. That star is Dmitry Molosh and he is rocketing high into the stratosphere at an astonishing speed.
Dmitry is famous for his inimitable progressive sound and excellent taste in music, Belarusian DJ and producer Dmitry Molosh represents his country far beyond its borders as one of the most forward thinking electronic music artists in the world.
Dmitry's sound is a powerful, melodic progressive sound. His music is epic and deep with driving, hypnotic rhythms and an unmistakeable chunky groove. It is music that is potent with emotion, it induces euphoria, it has an infectious, rhythmic energy and it sets dancefloors alight.
In the space of a just a few years, Dmitry's productions have become ubiquitous in the sets of legendary DJs who seek out his work, knowing that it is a byword for quality. He is regularly supported by industry giantssuch as Hernan Cattaneo, Nick Warren, Guy J, Guy Mantzur, Khen, Armin van Buuren, Cid Inc, Matt Darey, Eric Prydz, Markus Schulz, Darin Epsilon, Max Graham and many more.
Top quality progressive house and melodic techno is his hallmark and his strong work ethic and attention to detail have brought him releases on prestigious labels such as Hope, Sudbeat, Plattenbank, Proton and Replug. Dmitry's monthly radio show "Sound Wisdom" airs on Proton Radio and reaches thousands of listeners, while his DJ tours take him from Amsterdam to Budapest, from London to Madrid and from Argentina to India
https://soundcloud.com/dmitrymolosh
*               *               *               *               *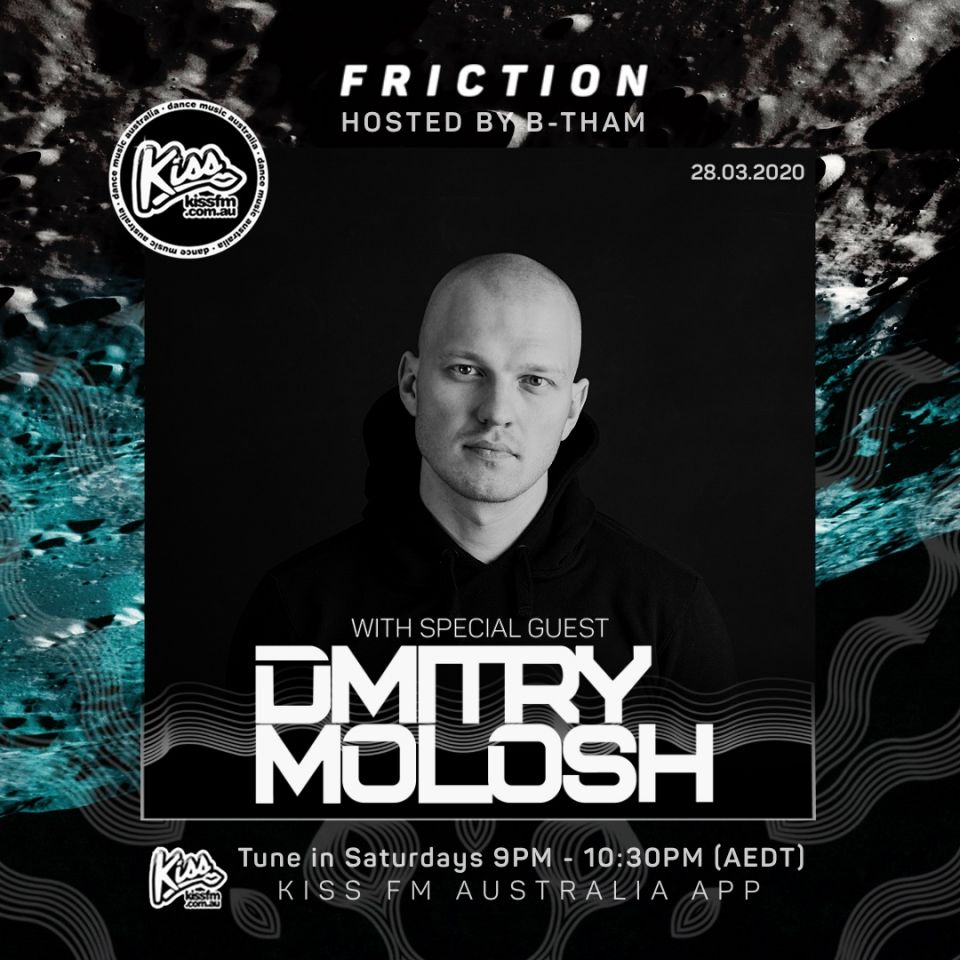 Remember to keep tuning into Friction every week as we welcome weekly guests up to the Friction waves.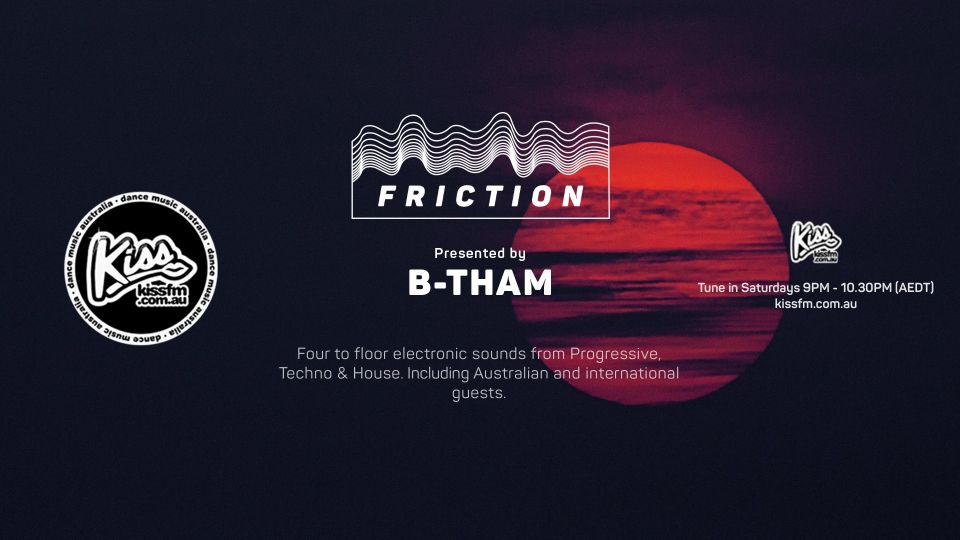 More Posts for Show: FRICTION