|| UPDATE TUESDAY 11 JUNE, 2019 ||
HE DID IT!!
We extend our love, RESPECT and pure amazement to Philvester!
On Friday the 7th of June, Philvester took over the KISS Airwaves to play tribute in the funkiest, sexiest most educational show you will have ever heard dedicated to Prince on what would have been his 61st birthday.
Last year Philvester did a 11 hour and 40 minute show.
4 days ago Philvester did a OHMYFUCKINGGOD 18 hour continuous set and tribute. It was and he is incredible.
WE WILL SHARE THE EPIC BROADCAST ON DEMAND – WATCH THIS SPACE
In the meantime we just want to show our appreciation for Phil and basque in what an amazing 18 hours that was for our ears and our souls,
Thank you Philvester XXX OOO
___________________________________________________________________________
|| PRE 07 JUNE, 2019 EROTIC CITY PR ||
Join us this
Friday

– June 7, 2019 Midday til Dawn
as we "Do It All Night" and "Funk Until the Dawn"
with Philvester, celebrating Prince on KissFM.com.au.
This is a UNIQUE & GROUNDBREAKING and potentially RECORD BREAKING celebration & broadcast – a tribute to Prince on what would have been his purple one's birthday.
Including an Exclusive Interview with Michael Howe, Prince Estate's chief archivist and A&R, sequenced the record and is the man in charge of The Vault. Michael also worked as VP A&R at Warner Bros records and had the privilege of working with Prince at the time. Michael possesses great knowledge about Prince, his recordings, and The Vault, and has been a real hit with the journalists to whom he has spoken so far. Michael will chat with Philvester about the 'Originals' and his role, alongside his passion &  his devotion to Prince's Musicand the future.
Moving & educational this will blow your mind, listen to Kiss anywhere in the world HERE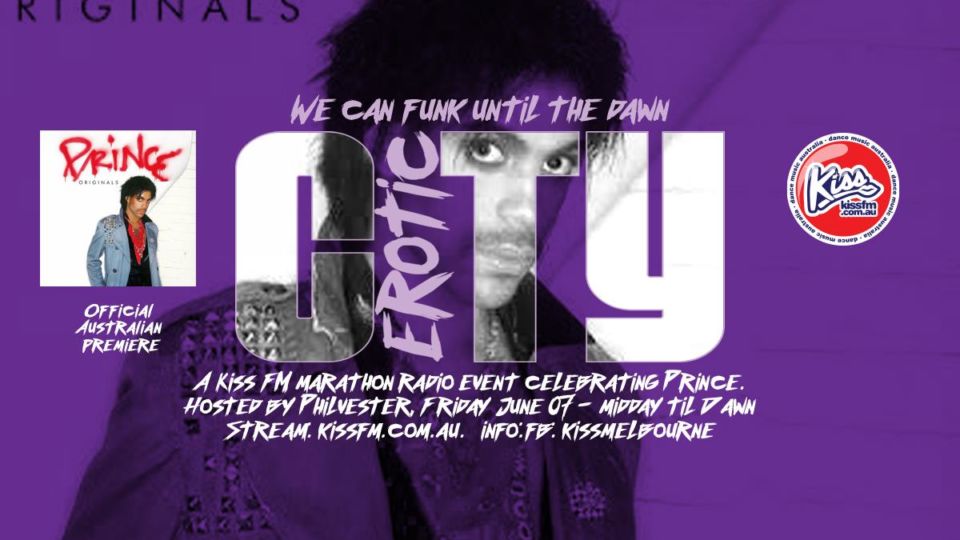 A marathon LIVE broadcast by Philvester celebrating Prince.
This will be a LIVE audio and visual delight.
Aside from an incomparable discography of 39+ studio albums, Prince was known for his stamina, perpetually engaged in marathon recording sessions and performing at after parties. June 7, 2019 marks Prince's birthday, the highly anticipated release of "Originals" AND Kiss FM's "Erotic City" special broadcast.
"Originals" is a collection of Prince penned demo's made famous by other artists over the last 40 years.  Tracks include "Sex Shooter", "Jungle Love", "Manic Monday"and "Love, Thy Will Be Done",  along with less familiar songs penned for Kenny Rogers, Mazarati and more.
To celebrate June 7, renown Melbourne Prince aficionado, Philvester returns to Kiss FM for a third time with "Erotic City".
"Erotic City" promises to be a celebration reflecting Prince's stamina as well his discography, with Philvester's aiming to break his own PB for longest performance playing and talking Prince from midday til the dawn.
With a current PB clocking in at 11 hours and 40 minutes, Philvester is hoping to shatter that record on air from midday to midnight, aiming not to stop until the morning light. After hosting many tribute events around town and armed with a decent swag of Prince albums, unreleased material, private edits and video material, fans of Prince will want to be tuned in for all of this event.
Expect a live, on air showcase of Prince penned classics for at least 12 hours with special twist and Kiss FM first. Later portions of the show will incorporate "facebook live" VJ streams of Prince's videography, mixed by Philvester.
|| Kiss FM Members will also have a chance to win special commemorative Prince CD's, thanks to WARNER Music ||
VERY SPECIAL LIVE BROADCAST
Erotic City | Friday June 07 |
From midday til dawn | Right here on Kiss
Here's an excerpt from 2017 to get you in the MOOD: