FRICTION welcomes JYDN from the infamous Melbourne crew RECOVERY COLLECTIVE. A crew that brings you those special moments that stay in your brain for a lifetime. Personally Kiss FM is very keen to see JYDN back in the studio.
*               *               *               *               *
Caught up in some sort of deep emotional abstraction between House, Techno & Electronica. Inspired by the balance of dark and dreamy, melodic and rhythmic detail of artists such as Extrawelt, Stephan Bodzin, Recondite & Tale Of Us – all crafted to encapsulate the audience with the movement and nature of each musical enlightenment.
Jydn – recognised as one of one of the hardest working emerging artists of the dance music scene in Melbourne of the moment.
Co-founder of Recovery Collective. A forward thinking, local Melbourne-based movement with a creative visionary and an aim for providing a fresh educational vehicle within the electronic music community. By showcasing emerging artists and undiscovered sounds alike, constantly striving to increase awareness and appreciation for quality electronic music.
After working, living, playing and exploring at a range of locations and networks around the world in hotspots such as Ibiza, Amsterdam, Berlin and Portugal – this has allowed Jydn to develop a strong understanding and knowledge in a range of fields across the music industry including not only DJ'ing and music production, but also in the realm of event graphic, web and publication design, set/stage design, photojournalism, event management and more.
Now going into the fourth year of escaping the winter, determination to pay homage to the Australian scene over the summer seasons is what drives Jiayden to return back from his overseas expeditions each year. His previous involvement spans Australia wide with festivals such as Strawberry Fields, Rabbits Eat Lettuce, Rainbow Serpent, Babylon, Pitch Music & Arts, Earthcore and more.
His debut release was on the label after 3 years alongside label partner Amuze with the 'Genesis EP', to of which climbed quite high on the Beatport charts, #4 in Electronica, #6 in Techno and #23 overall. Following the success of their EP, they then embarked on the Bridging The Gap European Tour, running shows and playing parties in Lagos, Porto, Amsterdam and Berlin.
The next piece to come from the two honchos was their remix of Doppel's Blacklight, featured on the Recovery Collective x Bassic Records Symbiosis VA collaborative compilation. The deep dark and progressive flip explores the realm of emotion through tangled synthesis and soundscapes, honouring a similar uplifting dream state as created in the original.
Turning Point, the latest record from Jydn as part of his contribution to Recovery Collective's ALLIANCE compilation was released in March of 2018, alongside the whole label family. Here he explored different sounds and feelings into the one rather emotive and progressive composition.
*               *               *               *               *
Check out last weeks episode below to keep you grooving until this Wed at 10pm, and remember to keep tuning into Friction every week as we welcome the following guests up to the Friction waves, including Andrew Wowk, Ben Not, Doppel, Charles Oliver, Christian Kerr, JPA, Kazuki, Lask, Mittens, Neil Smith, Timothy Weston.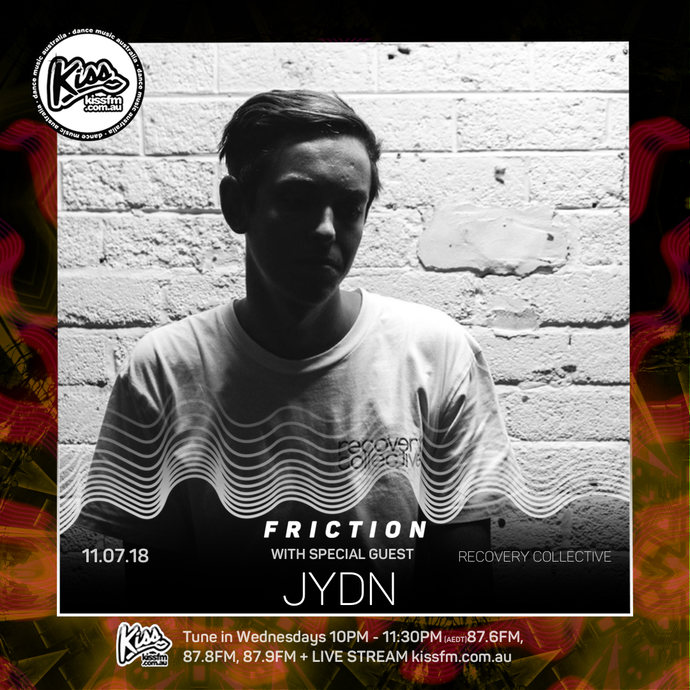 [mixcloud https://www.mixcloud.com/btham/friction-on-kiss-fm-tranceducer-040718/ width=100% height=120 hide_cover=1 artwork=1]