FRICTION welcomes SOMERSAULT to the Kiss FM airwaves. Somersault has made a significant impression on his short time in Melbourne since he arrived early last year. Constantly playing across the country at Clubs and Festivals see's him playing sets with a large amount of his own productions released on Bassic and many other worthy labels. Never setting his sights to far ahead already see's him on his way to experience Berlin for the summer. Catch Somersault on Friction as we set him off on his Journey to Berlin.
*               *               *               *               *
SOMERSAULT
(Bassic / Euca)
Somersault's music is uncompromising. Heavily influenced by the shuffling rhythms of dark UK garage, atmospheric techno and deep melodic house, Somersault straddles the line between the delirious highs and murky lows, a sound that's brought his unique sets to some of the most respected outdoor festivals and underground clubs across Australia.
The talented producer has come a long way from session guitarist to forging a signature brand of house, progressive and techno, receiving support from Be Svendsen, Felix Da Housecat, LTJ Bukem, Urmet K, Joseph Capriati, Joris Voorn, Laurent Garnier, Eelke Kleijn, Cid Inc, Max Graham, Oliver Schories, Armin van Buuren… the list goes on and on.
These releases call home a compelling list of labels international and Australian labels: Whoyostro, Innocent Music Deep, Suprematic, Bonzai Progressive, Bassic Records, Open Records, Upon Access, Subsonic Music, Unknown and Ugenius.
Through the '18/'19 summer Somersault warmed the floors playing directly before industry dons Sebastian Leger, Davi, Egbert, Secret Cinema and Kaiser Souzai, proving that heads are turning to this fast growing artist.
Somersault's sizable DJ resume otherwise boasts performances at major Australian festivals Subsonic Music, Rabbits Eat Lettuce, Dragon Dreaming, Bohemian Beatfreaks and Elements, as well as famed Australian club brands S.A.S.H, Revolver Upstairs, Goodbar, Elsewhere, Capulet, Breakfast Club, Bloom, Circus Sundays, Tramp, My Aeon, Club 77, Something Else and Slyfox.
*               *               *               *               *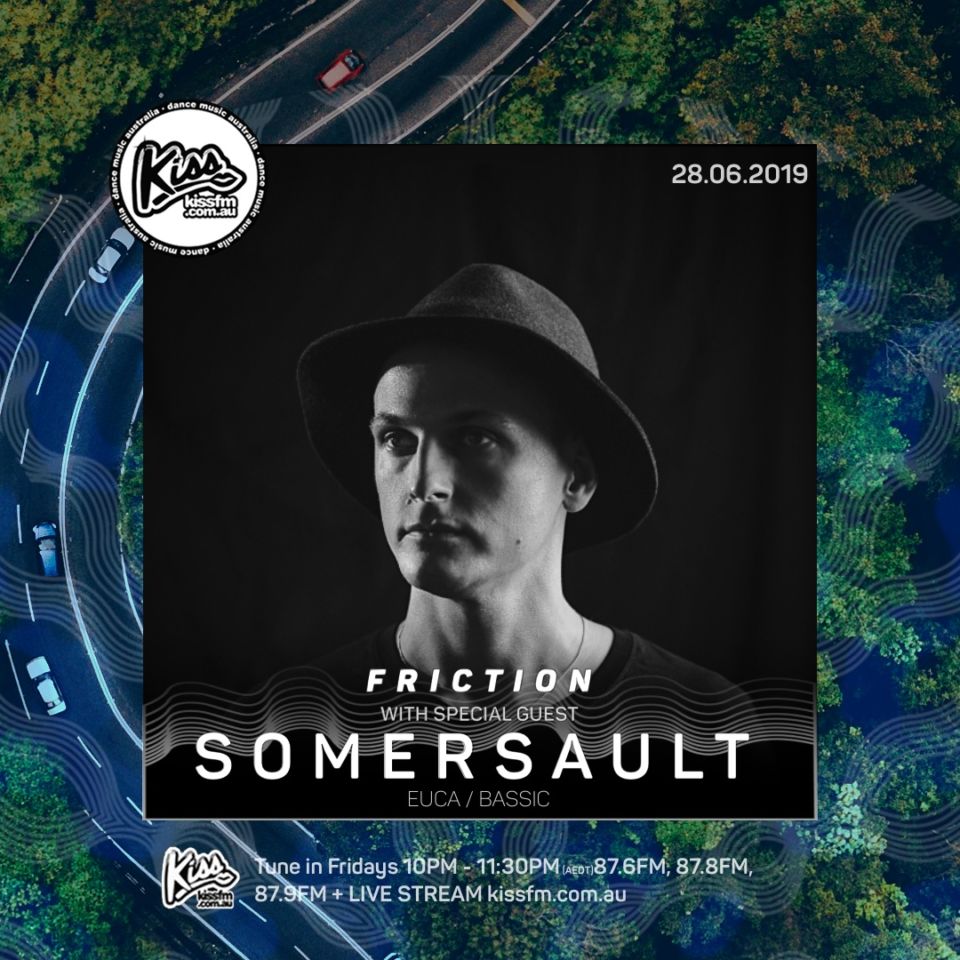 Remember to keep tuning into Friction every week as we welcome weekly guests up to the Friction waves.