STRICTLY OZ CHAT WITH
THE THUNDAMENTALS
TUNE IN TUESDAY FROM 8:30PM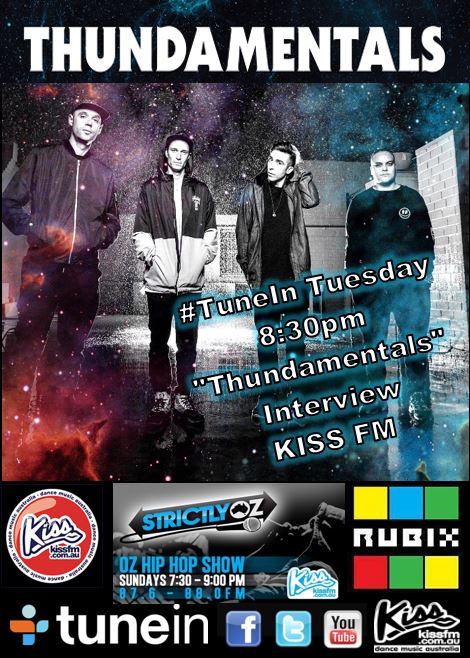 Aussie hip hop outfit Thundamentals return this month with their first album in nearly three years, 'Everyone We Know'.
Conceptually based on how reality is experienced though communication and the interconnectivity conversation provides, MC Tuka says the new record was written for audiences to take from it what they will. "It's the kind of work people will interpret however they interpret it," Tuka says.
"We've been abstract or a little bit surrealist in actually communicating it totally clearly. We never like to spell things out and we don't like to preach, so it's really up to the audience to interpret it.
"Basically, the premise of it is that when we were writing the record, it soon became apparent that we were talking to people that are in our lives or aspects and certain personalities that you have in your life."
Flowing on from ideas and themes explored on their previous album 'So We Can Remember' in 2014, 'Everyone We Know' was written and recorded as a broader conversation Tuka says retains a universally human significance. "We found that we were talking to certain people a lot directly within the songwriting.
'Everyone We Know' is the third, full-length studio album from Thundamentals, but the first record to be pressed by Thundamentals' very own, newly-formed record label, High Depth. Tuka says he and the band hope to make their own, unique mark on the music industry. "It's super-exciting," Tuka says.
'Everyone We Know' is available now.