STRICTLY OZ HIPHOP SHOW
TUNE INTO STRICTLY OZ HIPHOP SHOW THIS TUESDAY AS COOK & DIP CATCH UP WITH MELBOURNE MC "SLEZY" WHO HAS JUST DROPPED A NEW VIDEO AND WORKING ON SOME THINGS WITH "AUDIO ZOMBIE".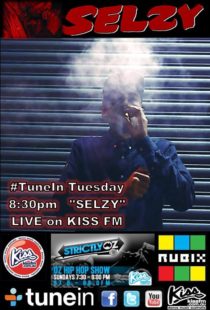 TUNE IN TUESDAY FROM 8:30PM WITH STRICTLYOZ WITH GUESTS SELZY, MONAS, LARGE AND BONEZY 2 BLADES.
KID SELZY'S FIRST OFFICIAL APPEARANCE WAS ON THE COMPILATION 'DENTAL RECORDS VOL.1′ WITH THE NOW CLASSIC TRACK "MY STRUGGLE" AND NOT LONG AFTER SELZY DROPPED HIS FIRST RELEASE, A SMALL RUN OF 250 OF THE ORIGINAL "CREEP" E.P IN EARLY 07' WAS RELEASED AND SELZY SOLD HIS DISC ON THE STREET, NORMALLY OUTSIDE MUSIC STORES, SKATE PARKS, HIP HOP SHOWS. STORES SUCH AS THIS IS IT AND OBESE ALSO STOCKED THE FIRST PRESSING. AFTER PEFORMING A FEW SUPPORT SETS AROUND MELBOURNE THE FIRST PRESSING OF THE CREEP SOLD OUT. SELZY THEN LINKED UP WITH OBESE RECORDS FOR A DISTRIBUTION DEAL THROUGH THE FRANK CASTLE ENTERTAINMENT LABEL SELZY AND A.DD RUN TOGETHER. THE FIRST OFFICIAL RELEASE WAS 'THE CREEP' REPRESS WHICH FEATURED A BONUS TRACK 'DUMB BITCH' W/ A.DD AND A REMIX OF 'KUNTZ W/ BRINKS' ALONG WITH A FREE MIXTAPE IN INDI STORES
(THE CREEP REPRESS HAS RECENTLY SOLD OUT OF STOCK)
SINCE THEN SELZY HAS RELEASED MORE THAN 5 RELEASES SUCH AS 'THE CREEP' E.P / CREEPSHOW LP / COLLECTORS EDITION / THE HELLBURNIANZ MIXTAPE & THE HELLBURNIANZ E.P ALONG WITH HIS LATEST ALBUM 'DIAL M FOR MELBOUNRE' WHICH IS IN STORES NOW.
*** SELZY HAS OPPENED FOR ARTISTS SUCH AS UNDERGROUND KINGS SUCH AS AUTISM, HIRED GOONS, HOSPICE, 750 REBELS, BROKEN TOOTH ENTERTAINMENT & RECENTLY HAS OPPENED UP FOR VARIOUS OTHER WELL KNOWN ARTISTS SUCH AS KERSER, LA COKA NOSTRA AND SWOLLEN MEMBERS… ***
CHECK THE VIDEO BELOW FROM WHEN SELZY STOPPED BY THE STUDIOS AT KISS FM PREVIOUSLY.