FRICTION welcomes OK SURE from Melbourne, with her own label WHTVR and a stellar Live act, Kiss FM and Friction are excited to see what OK sure brings to a DJ set.
*               *               *               *               *
OK SURE
(WHTVR)
Electronic Australian DJ and producer Ok Sure has been turning heads recently for her otherworldly style. Her first experience with electronic music came at the age of 13 and that segued into a career as Kaysh, which won her the Pioneer Pro DJ search in 2006. Her prowess continued to evolve until she became Ok Sure – a kinetic combination of dark, moody and melodic music designed for dance floors like Rainbow Serpent, Rose Quartz, Arcadia & Let Them Eat Cake. Never abandoning her roots, her trajectory took her back to DJ competitions in 2015 where she placed as finalist in the Your Paradise DJ competition and later catapulted her career for her remix of Ukiyo by Hermitude that won her the Triple J Unearthed remix competition out of 700 entries.
The rising star is busier than ever these days with her work ethic concentrated in the studio. Ok Sure is on regular rotation on Australian radio stations such as Triple J, Triple J Unearthed, Triple R, PBS, Kiss FM, FBi and Switch FM as well as having her own monthly shows on TRNSMT & Reform Radio in the UK, which was nominated for a Mixcloud Online Radio Award. She's remixed artists such as Sophie Lowe, Evangeline, Porsches, Habits, Lupa J, King IV and Miles Brown with many more remixes, collaborations and originals in the works, with her debut album 'Pleomorphism' released in Feb 2018 on her own label WHTVR, but in fact it's her magnetic performances that she is most often booked for. Ok Sure delivers live performances consisting of downtempo, industrial, dark melodic electronica and DJ sets pulsing with techno, deep house, electronica and…whatever
*               *               *               *               *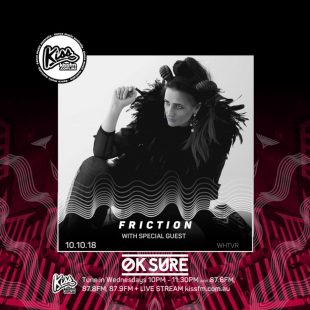 Remember to keep tuning into Friction every week as we welcome the following guests up to the Friction waves, including Dave Juric, Fütwerk, Liam Sieker, Luke Lawrence, Moskalin, & Suki.