FRICTION welcomes MATT ROWAN, having recently gained support from legend Hernan Cattaneo for his release with Robbie Lowe and a forthcoming remix for Australian dance music icon Mark Dynamix. Tune in this Saturday at 9pm.
*               *               *               *               *
MATT ROWAN BIOGRAPHY
Australian, Matt Rowan, has been at the vanguard of the progressive, deep and tech house movement since the late 1990s. A classically trained musician with DJ credentials of the highest order, his residency at Sydney's leading progressive night, SweetChilli was the catalyst for a career that has grown rapidly in the twin spheres of production and club performance. Playing alongside such homeland legends as Chris Fortier, Anthony Pappa and Steve Porter plus a host of international stars, Rowan carved out a niche sound that would see regular DJ appearances at home and across the globe to rapturous acclaim.
A DJ career established; production work that began in 2006 achieved immediate success. Collaborative work with industry heavyweight, Jaytech, saw the track "Tomorrow" licensed to Dave Seaman's "Renaissance Masters Series Part 7", while a twin-track EP was signed to Nick Warren's Hope. Further success followed and Rowan's production portfolio engages a host of industry leading labels and artists. Baroque, Curvve, Outside The Box and Armada sit loftily alongside industry stalwarts such as, Danny Bonnici, Kriece, Derek Howell and Dousk, as production work alternated with multiple DJ compilations for leading imprints.
2008's "I Play This" saw a debut album received to critical acclaim while Matt Rowan's work for Proton has been in bountiful supply since a first appearance in 2006. A surfeit of original productions and remixes has graced the imprint, culminating in 2012's stunning, "Basics" album. Fifteen tracks of blistering quality showcased Rowan's unique production talents in the tech and progressive house arenas, supported by the likes of Ad Brown, Zack Roth and Mango
Enjoying a resurgence in the latter half of the decade, Rowan continues to deliver quality originals and remix work for world's best labels and producers. Recent credits include remixes for Jan Johnston, Matan Caspi and Audioglider as well as original music on Pangea, Particles, PHW and Balkan Connection. 
Whether it be creating tunes that the world's Djing elite spin, or playing music to a packed dance floor, Australia's Matt Rowan follows in the footsteps, and continues the trend, of top flight artists hailing from the land down under. 
Checkout Matt Rowan's SoundCloud below
*               *               *               *               *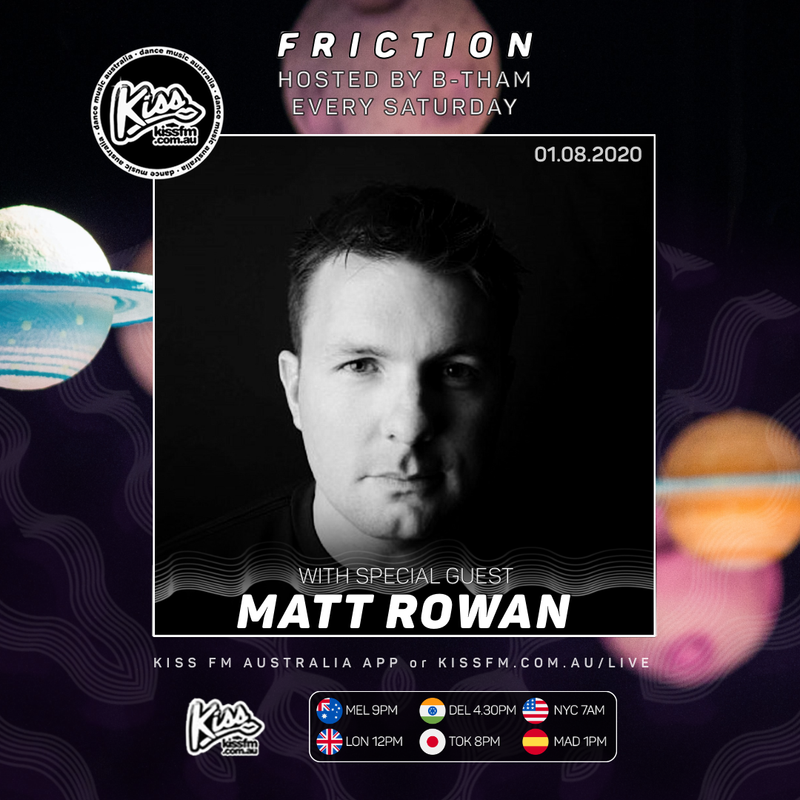 Remember to keep tuning into Friction every week as we welcome weekly guests up to the Friction waves.