FRICTION welcomes Melbournes Sensor Sonic Founder Mark Santa. Mark is the definition of passion, an avid pusher of good quality music in Melbournes scene. Friction is keen to hear what's happening with Mark and Sensor Sonic.
* * * * *
MARK SANTA
Mark discovered nightclubbing, turntables and dance music at an early age and got an insight into seeing Dj's play when he first started going out, he instantly knew this would be the start of a life long musical journey and knew where his destiny would lie. His passion started in the 80's just as electronic bands like New Order, Human League and Depeche Mode were smashing records around the globe. From there the rave scene unfolded and it enabled him to have a beautiful platform to work with.
He first started playing for the legendary 'Right on One Production's', which has a rich history in his native city of Melbourne at home in Australia. This is where Mark got an understanding of how to develop his sounds and techniques at a very young age, and from then on, the stage was set to take it to the next level.
1996 was the turning point though after he witnessed Sasha & John Digweed's Northern Exposure tour of Australia. He knew right then that he had to not only just be a DJ, but also start running his own club nights too.
The music was so fresh at the time that the crowds could not get enough. Mark quotes 'It was simply an amazing time to be involved in the industry. It was the right time, the right place and the right music – Everything was perfect'. His passion was so strong that he knew he had to do everything he could to contribute to the scene to help it keep growing further, hence the beginning of his own nights.
Mark was behind the famous 'TOO DEEP', which used to run all day on Mondays. Yep, that's right – Mondays! Sounds nuts, but this was a platform that Mark used to discover and bring through young artists, of which many of them have gone on to have successful careers of their own. He held residencies at Monkey@The Palace, Saratoga Fridays, Republic @ Room 680, Magic @ The Candy Bar, Superboost@Chasers and the list goes on. His latest project however is the Underground club Groundfloor which has recently opened and doing huge things with the best house and techno DJ S from around the globe.
He's also supported at all the major festivals here in Australia like Gatecrasher,Rainbow Serpent, Two Tribes, Future Music Festival, Gods Kitchen, Monkey and many more. He's supported for the likes of Sasha, David Morales, Anthony Pappa,Kasey Taylor , Paul Oakenfold, Dave Seaman, Dave Angel, D Nox and so many more.
He also had the honour of supporting De La Soul, as well as playing at the official Jamiroquai after party for the Melbourne leg of their tour.
With a Europe tour done and the launch of Sensor Sonic Records there will be lots of good parties ahead.. Mark is the founder of Sensor Sonic which has held some amazing street festival parties and club nights. Sensor Sonic has also started touring DJ's with a brand new club ready to roll. He can seamlessly weave mixes between genres, whilst being able to educate and entertain and play for the occasion as well. 

*               *               *               *               *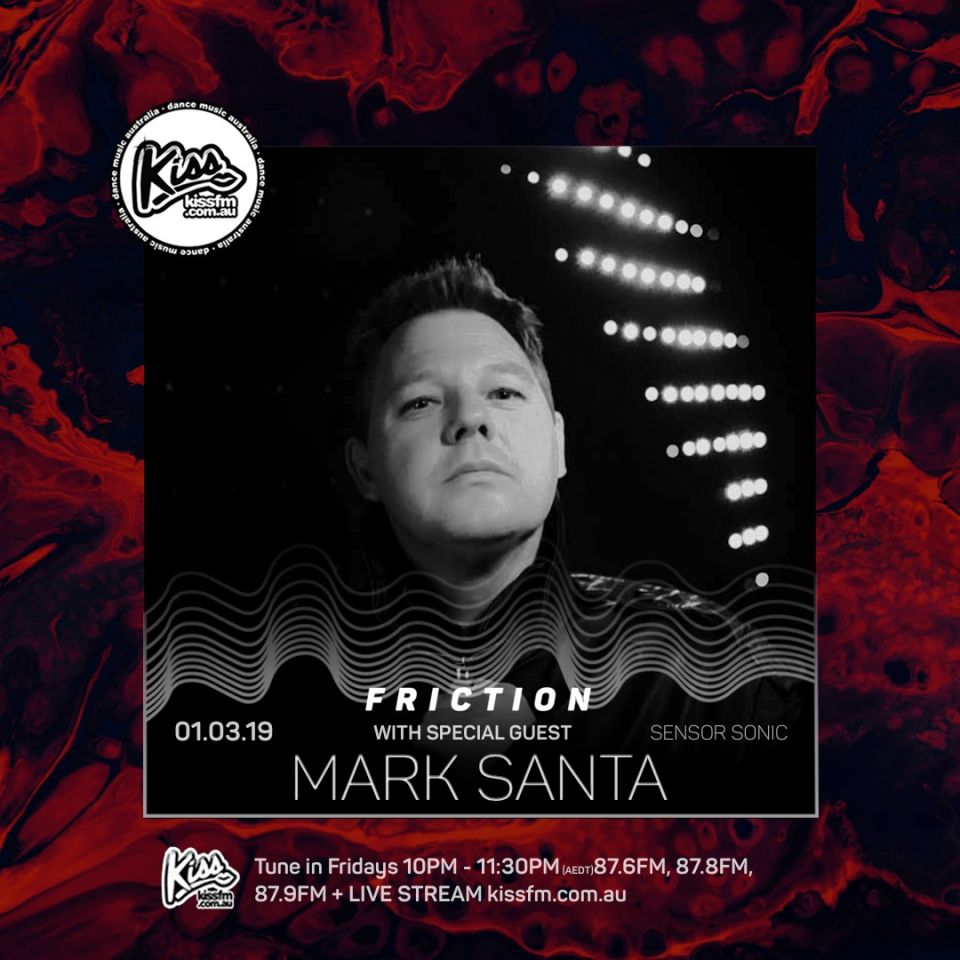 Remember to keep tuning into Friction every week as we welcome weekly guests up to the Friction waves.

CHECK OUT WHAT WENT DOWN ON THE LAST EPISODES

[soundcloud url="https://api.soundcloud.com/playlists/597422511″ params="color=#8a00a6&auto_play=false&visual=false" width="100%" height="319″ iframe="true" /]


More Posts for Show: FRICTION