To promote the upcoming fund raiser organised to help save the Amazon – Lunar lays down a special set on Kiss FM 6pm Friday 20th September 2019
Lunar (Ebony Keegan) is a Melbourne based DJ and aspiring producer. Her musical journey began at the age of 7 where she began playing the piano, dabbled with guitar and followed not long after with composing her own music.
It was only 4 years ago that she discovered the limitless possibilities of electronic music; gravitating her to explore and further her skills as a musician within the realm of psychedelic trance, leading her to completing a diploma in Sound Production at SAE in Melbourne.
 Through telling stories and creating experiences Ebony quickly established herself as an edition to the psychedelic scene. Playing alongside both local and well-renowned international artists at festivals such as Babylon, Dragon Dreaming, Earth Frequency, Elements, Esoteric, Rainbow Serpent and The Town, she developed the ability to deliver diverse sets that explore the realms of Psy Chill, Glitch Hop, Progressive and Full On Psy.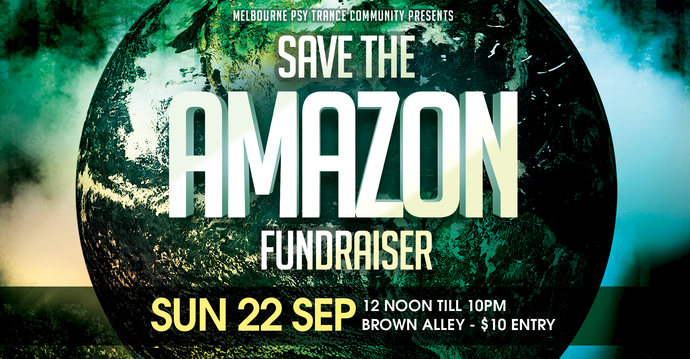 Her sets, full of intention, purpose, heart and diverse in sound, her are curated fusing together pulsating basslines, deep beats and energetic, uplifting melodies.
 In 2017 Ebony teamed up with founder of Progression Sessions Joel Roth to bring Melbourne's first weekly psy trance night to Melbourne, soon after founded and hosted Progression Sessions Radio on KISSFM and later launched a live streaming podcast Progression Sessions Jungle Room which she finished up in late 2018 to focus on her production.
 With a lot to reveal, the past 4 years are just the beginning.
Keep an eye and ear out for Lunar's upcoming performances and original productions; a little lady with big sounds!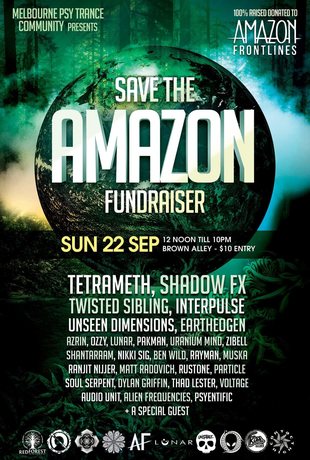 ~ D O N A T I O N S ~ Please note that 100% of the funds raised from this event will be donated to Amazon Frontlines. This choice of organisation has been carefully made with much care, consideration and research. Mission and Vision of Amazon Frontlines
"Our team is comprised of an international group of human rights lawyers, environmental activists, forestry specialists, environmental health scientists, filmmakers, journalists, anthropologists, and farmers. We live and work in the western Amazon. Our mission is to support the struggles of indigenous peoples to defend their rights to land, life and cultural survival in the Amazon Rainforest." You can also find more information on their website >> https://www.amazonfrontlines.org/