StrictlyOZ HipHop Show – Is having a  Hilltop Hoods show special in the weeks to come Celebrating the success of Australia's Biggest HipHop act "The Hilltop Hoods" .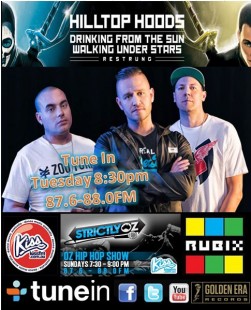 Cook & Big Dip will be showcasing some of the Hoods biggest tracks from over the years and chat to "Suffa Emcee" about the Upcoming Tour and new album that has debuted at Number #1 on the Aria Charts " Drinking from the Sun Walking under Stars Restrung" Performed Live in Melbourne with the Melbourne Symphony Orchestra.
So Stay Tuned to StrictlyOZ each Tuesday as they gear up for the Big show with the Hilltop Hoods.