WED 14/12/16 @ 2pm STAY FUCKIN' RAD
This weeks show is set to be a big one as we are celebrating both a stunning new album from a Melbourne local Synthwave artist and the Retro Electro Show's 1st Birthday!!!
Coming off the back of his first EP, Future Fate returns to Future Retro Music, with a solid offering of Synthwave inspired electronic jams. Spanning over 8 tracks, Fat Synthesizer takes listeners on a journey into a world of eerie cinematic soundscapes and organized synthesized chaos. The release captures the variants of the Synthwave sound in 2016 and seamlessly moves between the dark vibes of horror synth and the chilled sounds of 80's skyline splendour. Being geared towards the dance floor, the LP is packed full of punchy drums, dreamy pads and action packed synthesizer benevolence and is guaranteed to trigger that wanton nostalgia you crave.
We are also exited to announce the album release party this weekend for all to marvel the local label's team of neon-ninjas flex the biggest new hits down at the only Synthwave event around, right here at Forgotten Worlds!!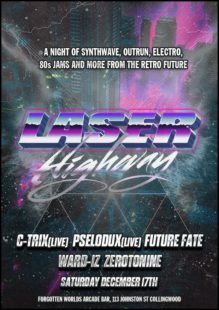 Go To Event Page:
https://www.facebook.com/events/1615681232068845/
Buy The Album:
https://futureretromusic.bandcamp.com/album/fat-synthesizer
Follow Us Around:
https://www.facebook.com/SamD.GEN/
https://www.facebook.com/futurefate/