FRICTION welcomes STEVE MARX to the Kiss FM airwaves. Steve is from Sydney and is a go to for the best in prog, having his own label OneDotSixTwo also keeps him busy. Steve brings a guest mix to the Friction airwaves and it is surely one not to miss.
*               *               *               *               *
STEVE MARX
(OneDotSixTwo)
Sydney's Steve Marx has been a regular fixture on the London club scene for over a decade now after making the move from his hometown in 1996. A regular on the Sydney scene, Steve could be found at the infamous Hordern Pavillion parties in the late eighties and early nineties where he developed his interest and passion for electronic music by leading the charge at clubs such as Base and The Front. Having made the move to London, he quickly discovered a taste for nights like Malibu Stacy, Tyrant & Renaissance and soon got himself in amongst the smaller nights where an exciting underground scene was developing alongside the rise of the superclub.
In 1999 he met Ben Clarke and Francis Mallinson and the Synchronize parties were born. I first met him in 2002, where he could be often be found in Plastic Fantastic Records or at Digression in Soho, where up and coming DJs mixed with other arty types sharing a beer and common musical ideas.Maybe it was that year that made the man and alongside Nick Dawes, he co-organised the Shadow 001 event at the Fortress Studios for World DJ day, playing alongside Rowan Blades, Paolo Mojo and Jonathan Lisle in an event where proceeds went to The Nordoff Robbins Children's Charity.
Guest slots at Renaissance @The Ministry of Sound, and many of London's smaller cooler underground nights began coming as well monthly gigs in Amsterdam, Zurich and further afield across Europe became the norm, playing alongside Sasha, Nick Warren & to name but a few. Often specialising in the closing set, Steve knows how to work a room, through skillful programming, expert track selection and above all tight mixing and is always an entertainer, both behind the decks and on the dancefloor. Fast forward to 2016 and Steve after a musically hiatus is now firmly planted in his hometown and birthplace Sydney. With music on his mind, Steve is on the rise again, supporting John Digweed for T-1000 events earlier in the year and most recently the birth of Jigsaw with musical aficionado's and partners Eddy Wells, Neil Smith and Kate Bailey through Jigsaw will bring something very special to Sydney's nightlife. 2017 has been nothing short amazing for Steve. January started out with him warming up for the might Hernan Cattaneo @ the official Electric Gardens afterparty as well as with Guy j, Guy Mantzur & Eelke Kliejn, so much so that an impromptu b2b took place with Eelke on that very evening, something for the musical CV some would say.
Steve has now firmly placed himself as a regular on the Sydney circuit with some exciting shows & collaborations planned over the remainder of the year. You'll certainly being seeing more of this loveable Australian, that much is assured.n.
*               *               *               *               *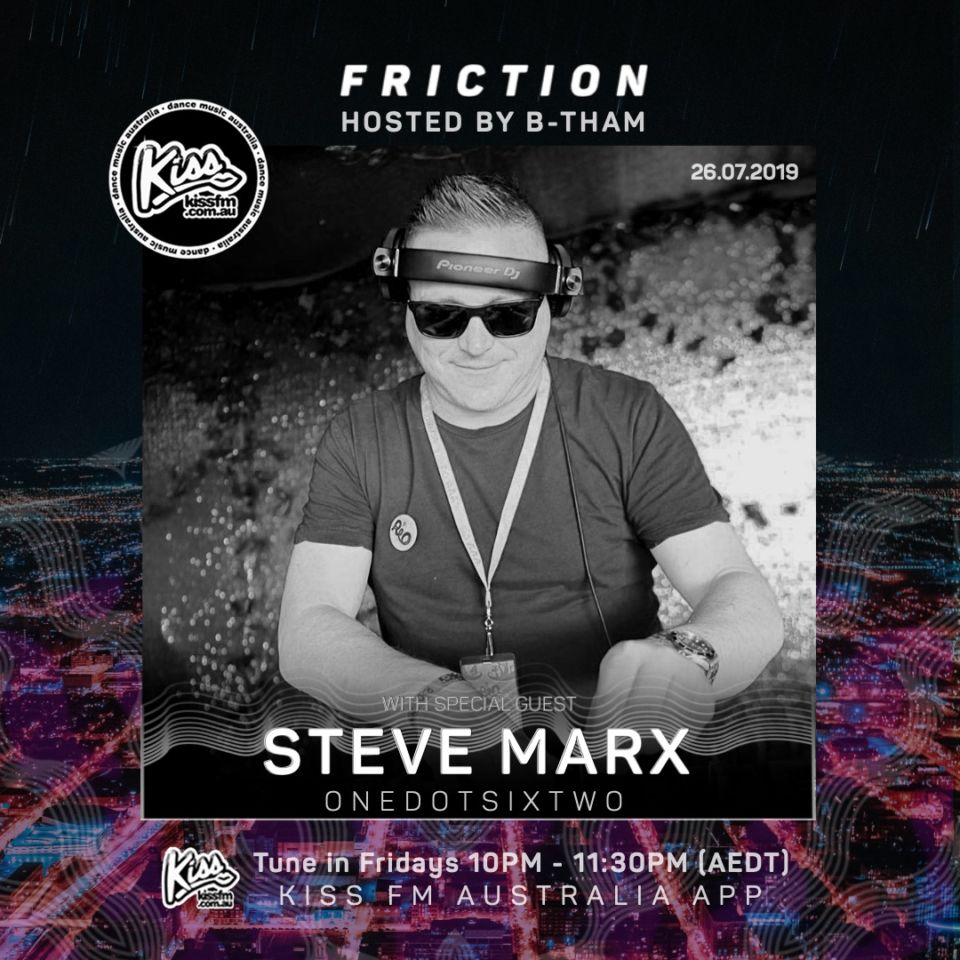 Remember to keep tuning into Friction every week as we welcome weekly guests up to the Friction waves.