FRICTION welcomes SHANE SOS, from Sydney Australia. B-tham had the pleasure of meeting Shane over a year ago and is excited to showcase this guys sounds.
*               *               *               *               *
SHANE SOS
Shane was born in Australia but his music born on the Island of Ibiza, a place very close to his heart and ingrained in his soul. It was at his first job working in a cafe on the Beach that he discovered the music that would lead him on an almost twenty year journey to the other side of the world and back again. " Each morning I would put out the tables listening to a disc that my boss had in the stereo. It was a new release from some strange place called Ibiza. Everyday I played it louder and louder in the mornings. I was hooked from the start right there in that little cafe by the beach." That chance encounter with Ibiza continues to this day to drive Shane and his music. He has been an Australian champion of the Balearic sound and is still inspired by his expeditions to the Island. He has traveled and played in many countries and has been greatly influenced as a DJ by the variety of places and people. None more than the Island of Ibiza.
For the last decade or so Shane has been making an almost annual pilgrimage to Ibiza and has played at Café Del Mar, Blue Marlin, Mambo, Space, Ushuaia & Kumharas amongst others. Closer to his heart is the hippy scene and the more underground side of Ibiza, the closest of which is the Sunset Ashram, his favourite place to lay down many a long set over the years. The Ashram at Cala Conta is arguably the most spectacular sunset venue on the planet. "The tribal, spiritual and music loving culture of Ibiza moves me and I feel that's the purest place to play music… The vibe of the music and the people that it attracts…those are my people. We all get lost in the music for months." In more recent years Shane has been making the journey to play at Burning Man. The Burner culture and the sound of the Playa has captured his heart and sound and it is here you could say that now defines his music, where as a DJ he has begun a new chapter. He is a founding member of Sunset Island, the biggest sound camp at Australia's Burning Seed famous for their massive sunset parties.
Producer, radio broadcaster and half of the Electronic Duo Electric Zeus. Electric Zeus have released singles and remixes worldwide since 2011.
Shane is now at home in Sydney and playing on major festivals like Sub Sonic, Return To Rio, Electric Gardens and Burning Seed. Most recently he was chosen as the 'plus 1' for Solomun when he came to Australia and they played for a 5000 capacity crowd. His sets flow effortlessly between Deep House, Progressive and Techno… always Dramatic and always uplifting.
.
*               *               *               *               *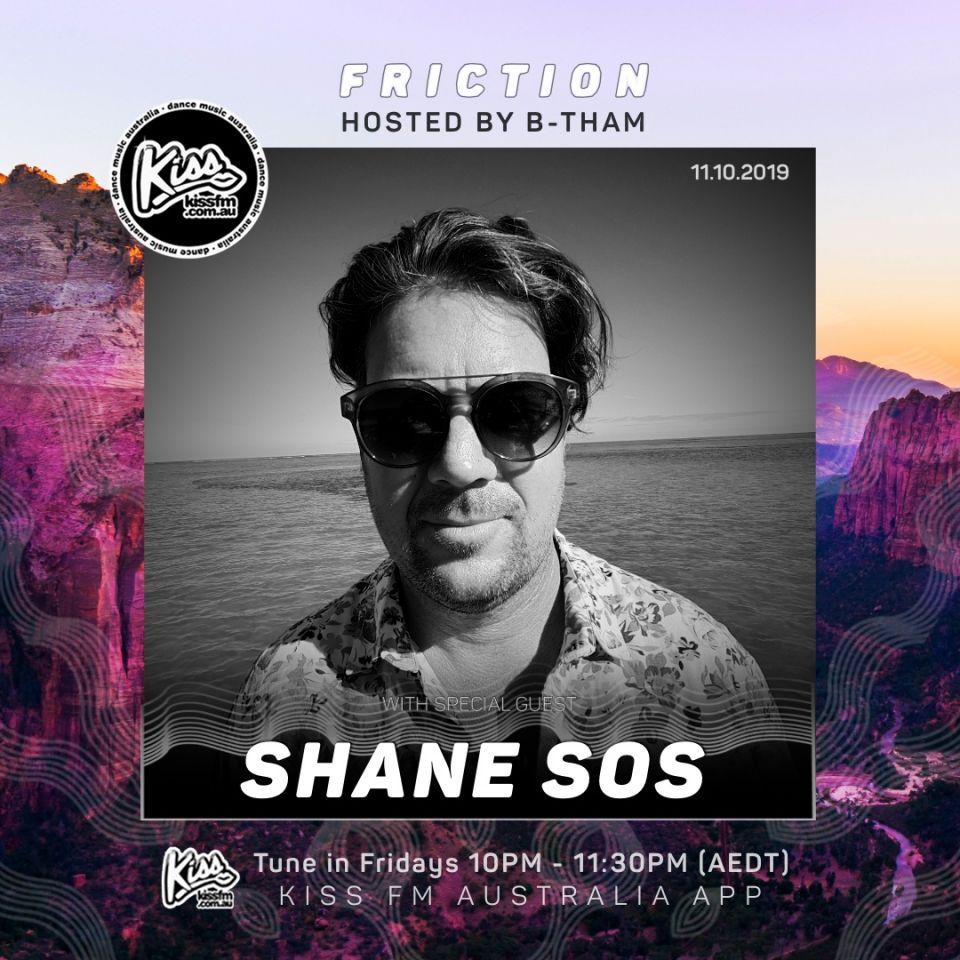 Remember to keep tuning into Friction every week as we welcome weekly guests up to the Friction waves.