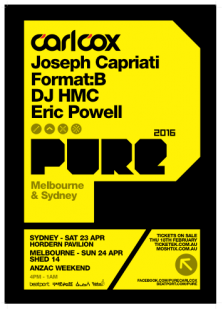 In April of 2016, Carl Cox will present the first installment of his 'Pure' event in Australia.
Taking place in Melbourne and Sydney, 'Pure' will showcase players from the global techno and house movements and
will feature Carl's favourite peers, as selected and programmed by him and Eric Powell of Bush Records.
In a global market where techno is enjoying a resurgence, Carl Cox has been a spearhead forging boundaries through his work in Ibiza
and globally with his Carl Cox Global radio show.  Wanting to present a taste of those experiences to Australia,
Carl's mission is to support the techno and house community in Australia
with an event of Pure electronic music with a no fluff attitude.
ANZAC Day Long Weekend:
Saturday 23 April – Hordern Pavilion, Sydney
Time: 4pm – 1am
18+ ID Required
Tickets: http://www.ticketek.com.au

Sunday 24 April – Shed 14, Melbourne
Time: 4pm – 1am
18+ ID Required
Tickets: http://moshtix.com.au
LINE-UP:
Carl Cox            Joseph Capriati         Format:B
DJHMC          Eric Powell
Supports:
Murat Kilic + Mantra Collective (Sydney)
Mike Callander + Scott Freedman (Melbourne)
Tickets on-sale: Thursday 18 February – 10am

For Full Bio, see press kit link below…
Carl Cox
One of the most charming DJs in the business.  A world musical ambassador, a champion of techno, a dance music pioneer, label owner, 'Rev head' and he proudly calls Australia home.  Carl has broken most barriers and played at some very special venues and festivals. He has been DJ'ing since he was fifteen years old & all eyes have always been on Carl Cox and in Ibiza, 'All roads lead to Space' on a Tuesday.
2016 is going to be a unique year for Carl.  It is Carl's final year as 'Space Ibiza resident and it is the inaugural year for his techno event 'PURE.' Carl's New Year's Day event at Alumbra in Melbourne, was an amazing sold out (well in advance) show where Carl delivered yet another incredible techno set.  Carl has been talking about 'PURE' for three years – the time is now.
For more information on Carl Cox, go to:
Website: http://www.carlcox.com
Facebook: https://www.facebook.com/carlcox247
Twitter: https://twitter.com/Carl_Cox
Instagram: https://instagram.com/carlcoxofficial
Carl Cox Press Kit: https://www.dropbox.com/sh/12liaediensfddu/AAAyiz1yBEtsth95q5AC6d-na?dl=0
Joseph Capriati
Joseph is first and foremost a DJ.  He has also well and truly established himself as one of techno's most interesting producers, with releases on Adam Beyer's 'Drumcode' and remixing the classic Joey Beltram's 'Slice' with Carl Cox, on Eric Powell's 'Bush Records.'
It only seems like only yesterday that Capriati was the new kid on the block when he started his 'Music On' residency in 2012.  He has since gone on to become one of Italy's biggest techno exports and one of the genre's big hitters.
A charismatic and instinctive DJ, he has played at the best venues and festivals around the world.  PURE will be Joseph Capriati's first time in Australia and the techno community is excited.
For more info, go to:
https://twitter.com/josephcapriati
https://www.facebook.com/JosephCapriatiOfficial
Format:B
Format:B's club anthem 'Chunky' was named third best song of 2015 in Mixmag's Top 100 Tunes end of year list.  The German originally released the track on the Formatik imprint in late 2014.  After racking up 2.5 million plays, the track was signed by Ministry of Sound, who gave it a mainstream re-release in November 2015.  Ministry commissioned a funny and distinctive video for the track, which helped it gain frequent MTV airplay, saw it placed as the third most shazamed track in Ibiza that year, gaining them countless new fans.
Format:B have been bubbling under the surface for years after a string of Beatport No.1's from 2009 to 2013.  With 'Chunky' going Top 10 in the UK and being featured as Annie Mac's 'Track Of The Day' in October, it has also topped the Australian ARIA Club Chart in December, so it is no surprise that 2015 has been his most successful year to date.
Format:B have a big year ahead of them in 2016, and their remix of Martin Solveig's '+1' has already hit the clubs.
For more info, go to:
https://www.facebook.com/FORMATBofficial
DJHMC
Propelling 'Down Under' techno and house into the world's clubs with classics such as: Phreakin', LSD and 6AM in the mid-90s, DJHMC (Cam Bianchetti) is rightly hailed as the 'Godfather of Australian techno.' DJHMC is called the Godfather of Australian techno for a reason.  He and the labels 'Juice' and 'Dirty House' were responsible for his hometown Adelaide's title of 'Australia's Detroit.' He hit number one on the German Dance Charts in 1995 with Dirty House's first release 'Phreakin.' He has just concluded yet another tour of Europe having made is fourth consecutive appearance at Berlin's infamous Berghain in as many years.  DJHMC has just launched an all new label 'Reflector' which will be a platform to release his re-mastered back catalogue and to also feature his most recent work.  The world is his, and he has embraced it whole-heartedly as the world has embraced DJHMC; once again to prove why he is one of the most talented techno and house DJs to ever grace the turntables.
Eric Powell
Techno lover and 'Bush Records' label owner, Eric can always be depended on to deliver on the decks.  Now a veteran of the turntables his enthusiasm for techno with a slice of funk has never wained.  Born in Manchester, educated in Detroit, Chicago, New York and Berlin and a local in Melbourne, Australia.