FRICTION welcomes Aves Volare back for a guestmix. Aves has spent most of his time in Germany since his last appearance on Friction. B-tham chats with Aves this Saturday, plus Aves lays down the guestmix. All happening via Kiss FM this Saturday at 9pm. 
*               *               *               *               *
AVES VOLARE BIOGRAPHY
The English-born artist whose journey in electronic music began in 2012, is now based in Frankfurt, Germany.
His melodic sound, hypnotic vocals and powerful beats give you boundless waves of energy. You can expect to see his Ableton live show in 2021.
He has collaborated with Heerhorst, Citizen Kain, Raphael Cerato, The Advocate, Abstraal & Niconé. He has also released on several elite labels such as Still Vor Talent, Einmuskia Recordings, Katermukke, Beatfreak Recordings, Eleatics Records, and Iconyc Music.
In 2019, Aves made a name for him self in Australia with unforgettable sets at Rainbow Serpent and Babylon festival. He also played an unforgettable set at Ein Tag Am Rhein in Mainz, Germany where he played along side Oliver Koletzki, Coyu and Christian Smith.
Aves also founded his own label Aviary Recordings in 2019, and is currently gaining a lot of momentum. The label's releases are charting consistently and gaining the attention of some excellent platforms such as Progressive Astronaut. 
Checkout Aves Volare's SoundCloud below
*               *               *               *               *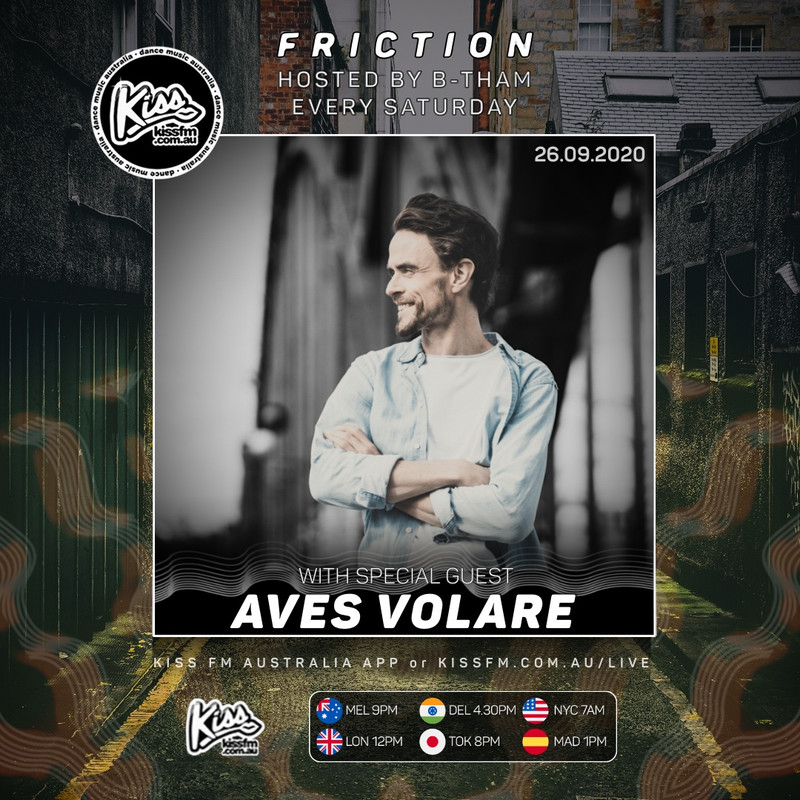 Remember to keep tuning into Friction every week as we welcome weekly guests up to the Friction waves.