Armin van Buuren picks up the ode cologne and rings Timmy live to air on The Beautiful Drive at 4.45pm Friday 20th Jan. Armin has just released his new single I Need You and is soon to Aussie shores with his Armin Only Embrace tour. Tune in and listen up!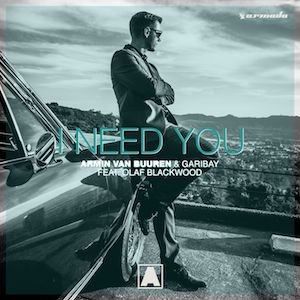 GRAMMY NOMINEE ARMIN VAN BUUREN PARTNERS WITH GRAMMY- WINNING PRODUCER FERNANDO GARIBAY FOR BRAND-NEW SINGLE: 'I NEED YOU'
In what can only be regarded as a truly titanic team-up, Armin van Buuren and Fernando Garibay have exceeded all expectations and then some. The Grammy-nominated Dutchman and the Grammy-winning songwriter and producer joined forces for 'I Need You' (feat. Olaf Blackwood), released today on Amsterdam-based record company Armada Music.
'I Need You' features the powerful vocals of Olaf Blackwood and could easily be one of the most stand-out collaborations of the year. The song is a testament to Armin van Buuren's unrelenting drive to explore his musicality, spotlighting a sound so infectious it's bound to turn heads all over the globe.
Armin van Buuren: "It's been truly inspiring to work with Fernando Garibay and Olaf Blackwood and to come up with something so musically adventurous. I am very proud of the result and can't wait to hear what everyone thinks of 'I Need You'."
Throughout his career, renowned producer and songwriter Fernando Garibay helped write and produce a number of global hit singles, which earned him five #1s in the US and several Billboard Dance Top 10 records. He has worked with huge artists such as U2, Kylie Minoque, Britney Spears, Whitney Houston, Shakira and Enrique Iglesias, and produced Lady Gaga's 'The Fame Monster', which won 'Best Pop Vocal Album' at the 53rd Annual Grammy Awards in 2010.
To support the release of 'I Need You', an eye-popping music video is to hit the world a week from now. The music video, which was shot in L.A., adds to the magic of the song by way of its striking images and humorous take on the superstar lifestyle.
Armin van Buuren has announced on his radio show that he will be bringing his Armin Only
Embrace world tour to Australia in 2017 for one show only.
Set to take place on January 28, 2017, Armin Only Embrace is presented by Symbiotic and is closely related to Armin's most recent album, Embrace. The show will consist of Armin van Buuren performing solo, and feature special guest artists who he has collaborated with on his album. The show will be held at the Sydney Showground, 1 Showground Road, Sydney Olympic Park, NSW.
"Australia has a deep love for Armin van Buuren evidenced by years of record breaking tours and shows. We are happy to be presenting his 'Embrace' show in January 2017" – Janette Bishara, Director at Symbiotic.
The five-time #1 DJ in the world has a spectacular performance in store for Australia, one of his favourite places to perform, with special effects, custom designed visuals, dancers and more.
"I'm still most proud of the Armin Only Intense shows we did in 2014 in Melbourne and Sydney. I've been to Australia more than a lot of cities in Holland, that's how much I love it." – Armin van Buuren
https://www.facebook.com/arminvanbuuren
http://www.arminvanbuuren.com/