STRICTLYOZ HIPHOP SHOW SPECIAL GUEST 
"ALEX JONES" FKA Dr FLEA OF LGEEZ B.T.E- LIVE !
Alex Jones aka Doc Flea is also one half of the LGEEZ duo with Son Of Sam, who recently released their debut LP Cloud 9.  Alex Jones also forms part of BTE and is heavily into Melbourne growing Grime scene with label mates Fraksha, Diem, Murky, Scotty Hinds amongst others.
So Tune in This Tuesday as Alex Jones stops by the Kiss Studios at Rubix with a Special guest TBA!
He will be chatting about his new Ep Blood Runs Deep 2 and spitting Live Bars!!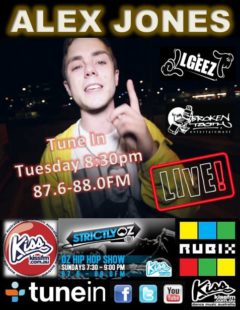 More Posts for Show: Strictly OZ HipHop Show