earthcore show finishes the Queen's Birthday weekend special with International guests, STANTON WARRIORS live in the studio for a 1 hour set before playing at RMH – THE VENUE.
Also, BIG FUCKING ROBOTS will play a 1 hour set from 5 till 6pm before playing at the event at RMH.
Hosted by Shannon Beveridge.
Thanks also to The Brink & Rock Like This
Tickets on sale NOW at https://www.outix.net/tickets/event/stantonwarriors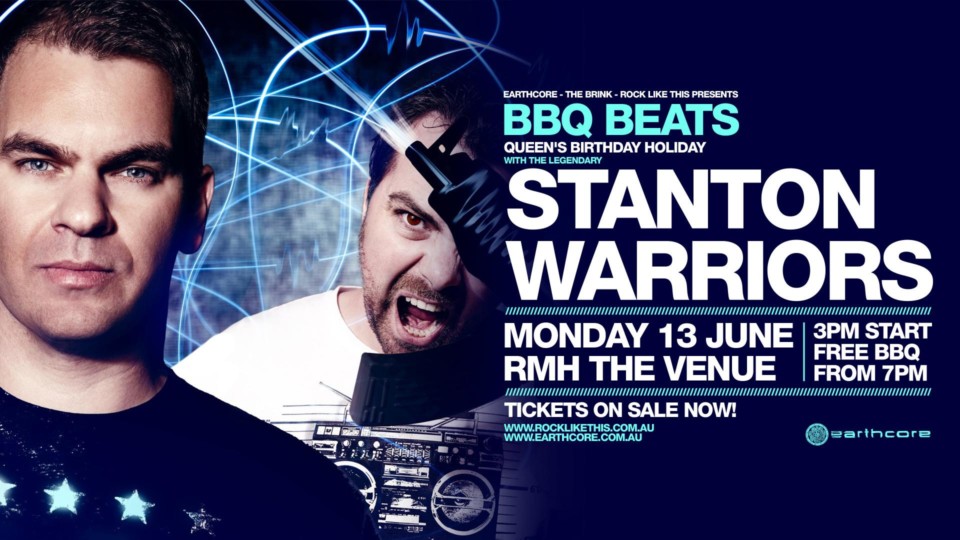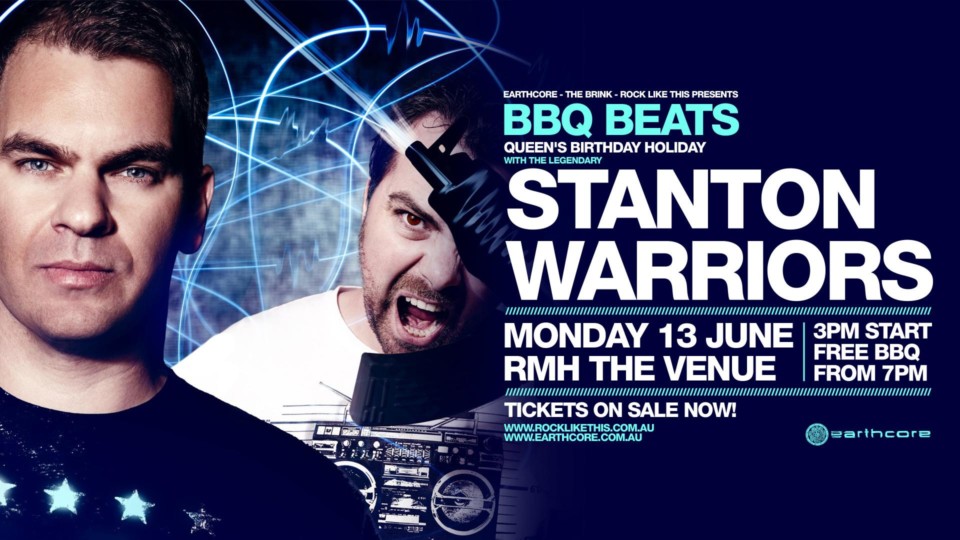 earthcore || The Brink || Rock Like This

present

BBQ BEATS
QUEEN'S BIRTHDAY HOLIDAY

+

Big Fuckin Robots
Citizen.com
Common Underground
Deviant
Hans DC
Holeyshot
Kay-Cee
B4RKLY
Lickweed
Miss Max
Obsessive Behaviour
Sensi Ninjas
Tee Dubya

Monday 13 June

with the legendary

STANTON WARRIORS

Since bursting onto the scene with their multi award-winning compilation "The Stanton Sessions" back in 2001, the Stanton Warriors' irresistible and inimitable sound has consistently remained the soundtrack to some of the world's biggest and best parties over the past thirteen years; from East London warehouses, Miami boat parties and illegal Detroit raves, to the stages of Glastonbury, Exit, Burning Man, Ultra and Coachella, selling out global tours and topping DJ lists along the way.

In the studio, Bristol's Mark Yardley and Dominic Butler have honed a trademark, uncategorisable sound that is at once all their own, but also utterly indefinable, leading to high-profile releases on XL Records, Fabric, Cheap Thrills, Central Station and Universal, alongside official remixes for everyone from Daft Punk and Fatboy Slim, to MIA and Gorillaz. This phenomenal output and remarkable longevity has ensured the Stanton Warriors legendary status amongst not only their fans, but also their peers, as they remain fresh, original and relevant; obstinately dancing to beat of their own drum and helping to pave the way for new talent.

In 2013 alone, the Stanton Warriors topped the Beatport charts (again), inspired Disclosure's Grammy-nominated album Settle, got Annie Mac dancing on her living room carpet, opened London's 3k capacity Building Six club, saw their podcast shoot to No. 3 in the iTunes chart and smashed the stages of Coachella, Ultra and Glastonbury.

In 2014, the Stanton Warriors typically show no sign of slowing down, with sold-out Stanton Sessions tours across the USA and UK, a brand new album with a tonne of exciting collaborations, including Claude Von Stroke's Dirtybird-signed Cause & Affect, main stage slots at London's SW4 and Miami's Ultra festivals and a slew of exciting releases on their own tastemaker label Punks.

2016 the Stantons have unleashed themselves on a global tour with Melbourne in their sights set to cook up a feast on and off the decks !

Tix on sale Monday 9 am Monday 21 March

SOLD OUT – super early bird
SOLD OUT – early bird
SOLD OUT – last chance
$45 + bf – final release

3 pm start – Free BBQ from 7 pm

RMH the Venue – 629 Bourke St – Melbourne

www.rocklikethis.com.au
www.earthcore.com.au/stanton-warriors


More Posts for Show: earthcore show