FRICTION welcomes RICKY COOPER, from Sydney Australia. Ricky is head honcho at Return to Rio festival and always has his finger on the pulse for good music. Ricky has prepared a special guestmix which tells a story with a beginning middle and end. Be sure to check this guestmix out.
*               *               *               *               *
RICKY COOPER
(Return To Rio)
Famous for being the creator of Australia's eclectic and magical music festival, Return to Rio, Ricky Cooper first made a name for himself back home in London. After launching the Homegrown parties in the Europe in the early 90's, Ricky and good mate Mr C, were behind the first-ever online radio station Gaia Live. Ricky was also a regular behind the decks at London's most infamous nightclubs, The End, The Cross, The Rocket and Bug Bar. From there, the offer of residency at Club de Baia, tempted Ricky to move to Portugal where people would travel from across Europe to witness their wild beach parties.
After falling in love with Sydney's laid-back lifestyle, Ricky settled in Bondi Beach. Here he spent years hosting and making a name for his Bondi FM radio show, and, during its prime, taking over Australia's most renowned club: Home. Not content with his extensive music commitments, he started a bar called Mocean, on iconic Bondi Beach. It wasn't long before the queues for Mocean were out the door and around the corner, and international bands and DJs were dropping by whenever they were in town.
There aren't many DJs Ricky hasn't shared the stage with, including Carl Cox, Laurent Garnier, Derrick Carter, Express-2, Steve Lawler and a back-to-back session with Eric Morillo, just to name a few. Ricky's also no stranger when it comes to the celebrity circuit – with Kate Moss and Jade Jagger famously flying him out to play at their private birthday party. These days though, you're more likely to find him directing the mischief and mayhem that goes down at Return to Rio's annual festival and sporadic side-shows.
What led Ricky to dream up his own music festival? Experiencing Burning Man many years ago, reignited his passion for the deep dreamy signature sound of The Playa, and inspired him to bring a taste of it back home to Australia. "It's the idea of bringing like-minded people together, and exposing them to quality new sounds and artists from all around the globe" he says.
Recently Return to Rio to has attracted a multitude of world-wide sensations from Lee Burridge, Dixon, Carl Cox and Tale Of Us to Atish, Recondite, Greg Wilson, LTJ Bukem, Ronnie Size and The Ratpack. Today, Return to Rio is a world-class event that has a reputation for delivering real music with soul.
.
*               *               *               *               *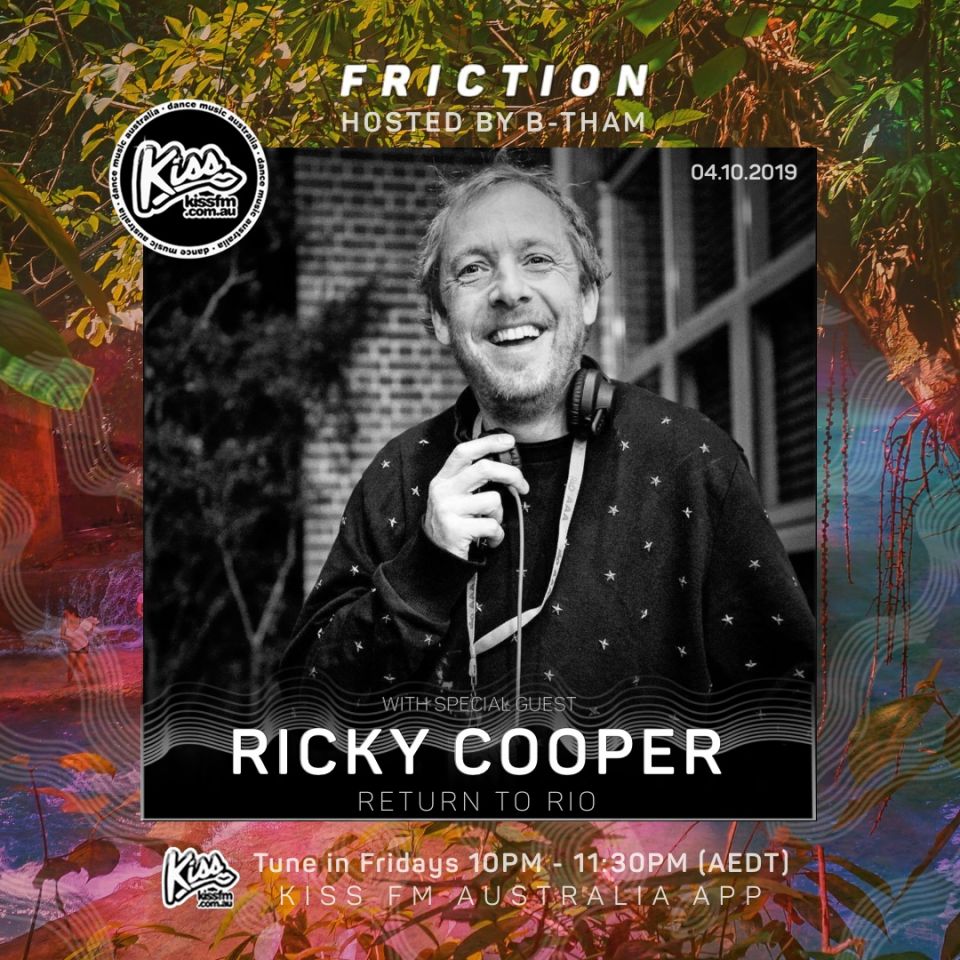 Remember to keep tuning into Friction every week as we welcome weekly guests up to the Friction waves.