On Air: Advertising / Show Sponsorship / Interviews / Guest Mix
Live: Live Cross / Live Broadcasts / Kiss Presents
Online: Website / Facebook / Twitter / Email
About KISS
Fully independent Radio Broadcaster since June 2005. Test Broadcaster KISS90  1994 – 2001
Has grown steadily & stayed at the cutting edge of Electronic Dance Music ever since.
2012 + 2015 – First & only station to ever represent Australia at the International Radio Festival (with Timmy Byrne's The Beautiful Drive show).
2016 – Kiss finds a new home for our live Studio @ Rubix Warehouse… adding an on-site venue to the Kiss arsenal…
What We Do
Underground Dance Music Radio featuring the best Australian & International DJs
24 / 7 • 157 DJs
FM in Melbourne • Live Stream [Hit the listen button top right of this page] • Kiss FM app
85+ shows a week • Every genre •  Music • Cutting Edge Culture
Every week we release the latest Dance Music Chart, Show, Gig & Member News. Sign up to receive the Kiss Crew Email every Friday here
Local & Exclusive International Acts
KISS FM HAS 97 WEEKLY SHOWS CONSISTING OF THE BEST DJ'S IN DANCE MUSIC ACROSS ALL GENRES FROM AUSTRALIA & THE WORLD
Just to Name a Few
John Digweed / Armin Van Buuren / Pete Tong / Defected Radio / Claptone / Beth Grace / The Journey / PQM / Eddie Mac / Safari / Sophia Sin / Timmy Byrne / Lucca Tan / Fosters /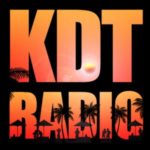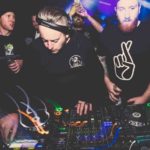 KISS is…
:: house :: hip hop :: progressive :: techno :: trance :: dubstep :: disco :: funk :: drum'n'bass :: soul :: reggae :: electronica :: old skool :: electro ::  groove :: nudisco :: boogie :: soulful house :: swing :: breaks :: :: jazz :: ambient :: psy ::
How Many Listen | Our stats
70,000+ listeners per week via FM in Melbourne (not including others in car, office, home) McNair Ingenuity
40,000 unique online listeners per month, 90% within Australia via www.kissfm.com.au
56,000+ Kiss FM App downloads
57,000+ Listeners on TuneIn Radio App
Typical listen time is 2 hours (unlike commercial radio, typically 7mins) PER DAY
Our listeners
Are cynical of commercial radio & don't channel surf
Have high disposable income & reside in affluent areas
Are tech savvy and first with new toys & gadgets
Are comprised of management, students, retail workers, IT, tradesman, designers & corporate listeners
Are fashion and image conscious and are extremely brand loyal
Go out to bars, restaurants, nightclubs and festivals to socialise
Listener Stats
Age
| < 18 | 18 – 24 | 24 – 29 | 30 – 35 | 36+ |
| --- | --- | --- | --- | --- |
| 2% | 21% | 32% | 22% | 23% |
Gender
Tech Purchases per year
| One | Two | Three | Four | Five+ |
| --- | --- | --- | --- | --- |
| 24% | 31% | 18% | 6% | 21% |
Holidays per year
| One | Two | Three | Four | Five+ |
| --- | --- | --- | --- | --- |
| 35% | 28% | 16% | 7% | 16% |
On Air Rate Card [prices Incl. GST]
Production starts at $80/30 second spot
30 Sec Ad
$44 Zone 1 Mon – Fri: 7am-9am & 4pm – 6pm
$33 All other times
Other time increments = pro rata (i.e 10sec, 15sec, 45ec) of the 30 sec rate
HIGH ROTATION –  Call to Action, reaches entire audience
7 day Campaign: $1650
Includes: 8 x spots per day | 7am – midnight (inc 2 x zone 1 per day)
1 x live reads in Drive
1 x social media post
Rotating Web Banner Kiss Homepage
Inclusion Kiss Crew Email
MEDIUM ROTATION –  Call to Action/Branding, med-high hit rate
7 day Campaign: $880
Includes: 4 x spots per day | 7am – midnight (inc 1 x zone 1 per day)
1 x live reads in Drive
1 x social media post
Feature Story Kiss Homepage
Inclusion Kiss Crew Email
BRANDING
4 week Campaign: $2250
Includes: 5 x 20 second spots per day 7am – midnight (inc 1x zone 1 per day)
1 x live read in drive per week
Rotating homepage web banner – duration
Inclusion Kiss Crew Email – weekly

BRANDING – SHOW SPONSORSHIP
Own your Own Show
Or Sponsor a Current Cult Kiss Show
Contact KISS SALES to discuss
LIVE READ & LIVE CROSS $155 (ZONE 1 ONLY)
OUTSIDE BROADCAST
From $310 per hour
Any location with reliable internet
Contact sales for a quote
Online Stats
Stats taken April-May 2018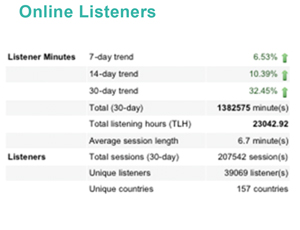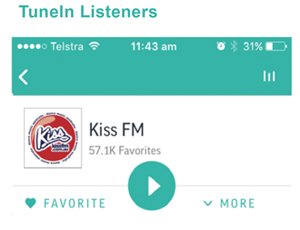 Website Users: 11,500 Page views: 31,884

Facebook: 53,000+
Twitter: 7,300+
Facebook Data
Quantcast Data
Online Rate Card
Kiss Crew Email Feature Article 
$210 including gigs, charts & kiss show news Out every Friday Image & link to 6,500+ subscribers
EDM – Exclusive Direct Email
$375 Out at a time you choose Image & link to 6,500+ subscribers if Includes a Member Incentive
$500 Out at a time you choose Image & link to 6,500+ subscribers
Social Media
$220 FB or Twitter Post Engaged 56,000+ social media fanbase
Either Pinned posts for 3 days or / Post + access to advertisors to Boost Post
Website Branding Website takeover
from $1100/pw
Headline Banner
from $250/pw
Pop-up display
from $350/pw
Sidebar Ad
from $200/pw
Targeted Campaigns – Ask us for a quote.
Business Membership
$550 inc 3 month branding campaign on-air & on-line
A Small Business Membership is an extended (90 day) Branded Promotional campaign for your business!
We will:
Get your business [logo]] [linked to your webpage or socials] out to 7,000+ each FRIDAY via the Kiss Crew email
Get your business heard EVERY DAY – 2 [30 second] spots per day
One pre-produced 30 second on-air advertisement, made by KISS.  Professionally written and produced
Hear it every day –

Weekdays during Prime time Breakfast & Drive Shows
Weekends – late mornings and early evenings
n.b if you have a particular show you'd like to hear your ad in this can be arranged)

Get your business online and next to very cool and credible content, viewable on every page at kissfm.com.au
Give you a New Business Member plug on our Social Media
Give you the option to UP your reach on KISS when you provide Tickets, Products, Merch ie Giveaways. We can use these as Incentives in a branded Member Drive
Give you 15% off any CALL TO ACTION campaign your Business runs on KISS FM whilst membership current (an example of a Call to Action campaign is the promotion of one specific event/sale etc).
NB:
Marketing wise – the inclusions of a KISS FM Business Membership is intended for use as BRANDING.
If you require a CALL TO ACTION please contact kiss sales admin@kissfm.com.au [as a Business Member you get 15%off].
Business Member must provide Graphic Design for online Assets, although we can assist if necessary.
Should you need to update or change your complimentary 3 second ad you can order new Production from $50 on a minimum 48 hour around.
Push here to join us as a Business Member
Partner Promotions
Kiss FM has a strong Member program.
Our members pay $55/$88 per year to support KISS.
We have over 500 current paid up members under our new program which is now 9 months old.
We can use Product, Event Tickets and the like to create New Member Drives or share to the audience as available to Current Members Only.
Depending on the value of the product or ticket, and the quantity, we can create a partner campaign either online or on-air – or both.
Your brand or product gains mention and placement via partnering our Member Program.
To run a promotion [give product for promo] please email kate@kissfm.com.au
Event or Festival [Dance Music Industry Ad Rates)
Must include Use of Kiss FM logo in conjunction with use of term "Kiss FM Presents" for all event organisers artwork online & in print.
On Air lead up campaign of either one, two or three weeks prior to event.
8 ads per day /42 advertisements per week including one in breakfast, one in Drive and one early Evening/genre specific shows each day. Kiss FM to produce 30 second advertisement in consultation with event organiser.
Kiss FM Home Page banner in lead up to event
Inclusion in Kiss FM weekly Kiss Crew email out
Kiss FM social media support of event
At least one on air interview with either promoter or talent playing at event
Option to put forward a Friday Guest Mix DJ playing at event.
Option to intensify campaign with Incentives for Kiss Members
KISS Presents Rates:
$750  One week lead up campaign
$1250  Two weeks lead up campaign
$1700  Three weeks lead up campaign
Free Event Listing
KISS FM helps to support the Dance Music Scene by informing our captivated community about what's on.
We actively encourage the communities right to comment and interact with the scene as a whole.
The form to LIST YOUR EVENT takes 5 minutes to populate.
Approved events will be published – usually on a Wed, Thu or Fri [Note KISS DJ's can publish anytime via site Log In].
Published Events enjoy the following:
Once published your listing sits on the KISS homepage and on our events listing page
Once published is auto social-ed to our FB Fan Page & Twitter – incl tags on Facebook
Once Published is published in the final week prior to event in the kiss crew [email out every Friday to KISS members]
Once Published our On-air DJ's can use event content for live reads in local shows
Push here to submit your event
The KISS Grid
Kiss has a huge roster of international and local shows, check out our full grid here
Contact Us
Advertising or call 0410 455 876
Support KISS by becoming a member
And anything else
General Enquires
or call 03 9380 5555
(Visited 830 time, 1 visit today)