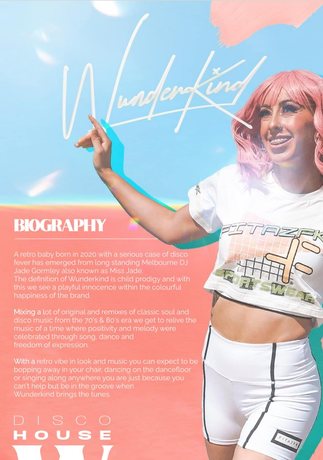 A retro baby born in 2020 with a serious case of disco fever has emerged from longstanding Melbourne DJ Jade Gormley also known as Miss Jade.
The definition of Wunderkind is child prodigy and with this we see a playful innocence within the colourful happiness of the brand. Mixing a lot of original and remixes of classic soul and disco music from the 70's & 80's era we get to relive the music of a time where positivity and melody were celebrated through song, dance and freedom of expression.
With a retro vibe in look and music you can expect to be bopping away in your chair, dancing on the dance floor or singing along anywhere you are just because you can't help but be in the groove when Wunderkind brings the tunes.