Favourite Son of Kiss FM and resident station shaman UOne is back with an exclusive Kiss Guest Mix.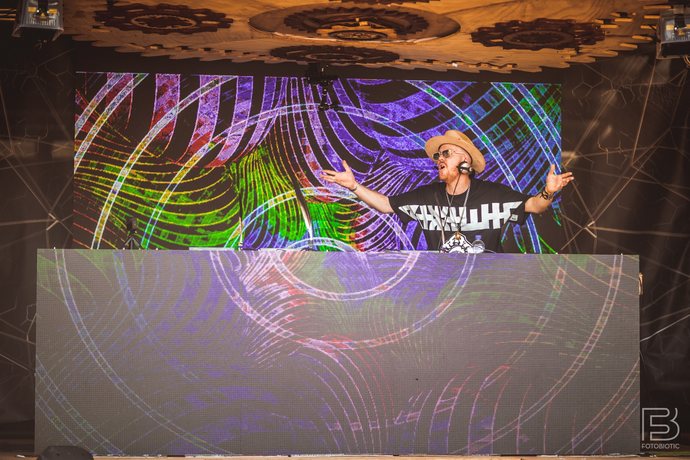 For a galactic gambler like Uone, music and art is an important language designed to cross social and cultural boundaries. He is the global voice of a cosmic deep sound that has seen him transform dance floors from the USA's Burning Man to the UK's Glastonbury. In his native Australia, he backs that up with his status as a multi-faceted artist and dedicated industry leader behind various projects geared towards strengthening the scene.
As Director of Vision Hound, he helms a forward-thinking artist and touring agency championing local (and global) dance music culture. For proof, look no further than Chi Wow Wah Town, an exciting, almost spiritual arts and music weekender born from his creative mind. Part music, part atmosphere, part Alice in Wonderland, his curation is responsible for the event's reputation as a fertile breeding ground for local arts and musical talent to launch from.
Nowhere is his push for freedom of expression through music and art more evident than his studio pursuits and his Beat & Path Recordings. There he operates as a talent finder and shamanic songwriter, a musical altruist giving a guiding hand to up-and-coming talent. It's an all encompassing holistic system designed to teach and help his family of artists to find their next level.
On the dancefloor is where it all comes together, a proficient DJ who holds a watertight space sermonising music's healing powers to an international audience. From western-influenced deep house to organic tribal rhythms brushed with psychedelia, his DJ sets oscillate from subtly spiritual to super sexual. As a producer he has released music on international imprints Katermukke, Still Vor Talent & Sol Selects, imbuing his productions with a humanist arc celebrating our connected spirituality. Make no mistake, this theme is resonating. His 2CD release in 2018 for global powerhouse label Balance was a unique vision reaching number one on global dance music barometer Beatport's Deep house charts.
The next project on his sunset-red horizon (October 2020) is a full-length debut under his new moniker The Lone Wranglers. It's an epic ten-track release re-synthesising spaghetti Westerns, psychedelia, pulp fiction and more into a pastoral package for his own Beat & Path label. As evident by the three well-received singles, promotions are well underway and feedback is showing much promise.
For Uone music taps into a unique place where inner truth can be explored without judgement. It's a tool to relieve societal pressure and to connect with the future through nurturing talent. Embrace your centre and enjoy in the celestial union with Uone.

More Posts for Show: Kiss Guest Mix