STRICTLYOZ HIPHOP SHOW
Special Guest " FORTAY AT LARGE "
First show back for 2017 and Cook & Big Dip have special guest "Fortay at Large" on the show for a chat about his new album and current Tour round the country.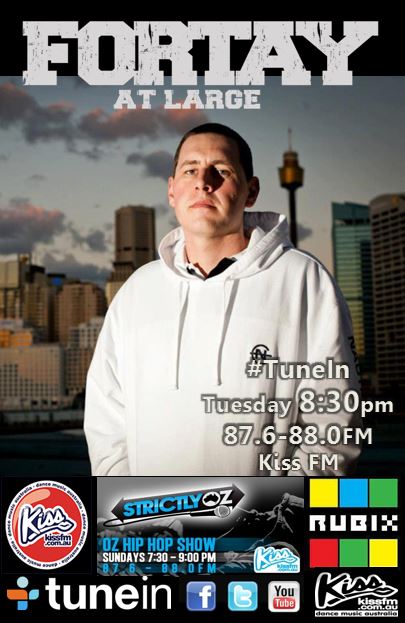 With over 10 Years in the scene and a gang of releases in his catalogue Fortay is back with a new album " West Syd Story" featuring Hopsin, Cormega, Bonnie G, Bruce Hathcock, Adrian Eagle and 80k
Produced by Dizzie Dayze, Defiant, Jimmy The Gent, Ones and So Flawless.
He is currently Touring the album and Hitting Melbourne Thurs 19th Jan 2017

At large productions presents Fortay At Large liveFortay delivers an impressive repertoire of hits from his latest albums along with a few favourites that include the Come smoke with me series which have several million hits on youtubeHosted by Jimmy The Junkie from the hit show Housos, this mash up of real life hip hop and comedy is unlike any otherThe show is supported by Redback, Mitchos the menace and Drae cliche with Dj jungle J.
---
FORTAY AT LARGE LIVE – Melbourne Melbourne Australia @ Grumpy's thursday, January 19, 2017

More Posts for Show: Strictly OZ HipHop Show