STRICTLYOZ chat with "Crimson Heart" Live on Kiss FM Next Tuesday 8:30pm
Crimson Heart are a unique duo formed in Melbourne, Australia. The group is a collaboration of two artists who have been around the traps for many years as solo artists, and have come together to compliment one another's style.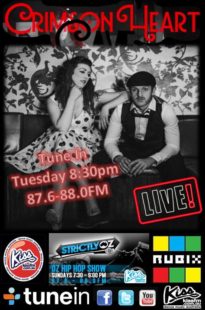 Kaye is an accomplished singer/songwriter who brings a soulful emotive performance to each Crimson Heart track. She is heavily influenced by soul, pop and rock music of the last 5 decades.
Big Dip is a powerful hip-hop artist and his lyrics are filled with passion and a strong message.
Their debut film clip 'Cave' is out August 8 2016. The track will be available on iTunes August 14th 2016.
With a new twist on traditional pop music, Crimson Heart incorporates hip-hop, pop, rock and soul to create an exciting new sound and entertain audiences at a whole new level.
(Visited 20 time, 1 visit today)