MANYFEW BIOGRAPHY 2021"The self-taught duo exude a passion for producing wildly digestible tunes that unwittingly get you up and moving" –DJ Mag
On a mission to deliver feel-good and dance-ready creations all around the globe, Stockholm-based production duo ManyFew have spent the last few years lifting spirits with their distinct blend of house and disco. Driven by an unrelenting passion, ManyFew are brothers by blood and best friends by choice.
Meticulously honing their craft, ManyFew began self-releasing their original works in 2017, catching the attention of industry heavyweights with an array of dance floor fillers including 'Feel Good', 'Where To Go' and 'How Would You Know'. Climbing the Music Week Upfront Club Charts, ManyFew hit #5 with 'Still In Love', #9 with 'Ibiza' and #10 with 'Where To Go'. Making a massive impact with 'Makin' Love' on Perfect Havocin late 2019, the electrifying single has been streamed over 3 million times on Spotify alone. Making their Axtone debut with the label's final release of the decade, ManyFew teamed up with Marcus Santoro and Hayley Mayfor a momentous collaboration, 'For You', which was supported by the likes of Meduza, Tiësto, Don Diablo and Dimitri Vegas & Like Mike.
Reaching new heights in 2020, ManyFew made their Spinnin' Records debut with 'Off My Mind' Ft. Voost, which has garnered almost 3 million streams on Spotify and was 1001 Tracklists' 14th most played Dance Track of the year. Flaunting their remixing abilities, the brothers also provided official remixes for music royalty including Paul Oakenfold's 'What's Your Love Like', Whigfield's 'Suga' and Clubland's 'Set Me Free'. Following their emphatic debut UK performance at the Ministry of Sound Weekender, the pair performed at legendary music venue Ibiza Rocks on the White Isle. With live events on hold, they took part in a variety of livestream festivals, ensuring they made every moment count, despite the difficulties presented by the ongoing global pandemic.
Exuding sheer determination and excitement in everything that they do, ManyFew continue to soar further into a league of their own in 2021. Celebrating over 1 million monthly listeners for their vibrant Electronic Heaven radio show, ManyFew have well and truly solidified their tastemaker reputation. Achieving a stream of new accolades, they were selected as one of Tomorrowland's 'Future 4' artists, and continue to receive heavy support from BBC Radio 1, including presenting 'Off My Mind' as a Self-Certified Anthem on MistaJam's Future Dance Anthems show. Calling upon an iconic Chaka Khansample in their most recent single 'Clouds', ManyFew's 3 Beatdebut rocketed to #1 on Music Week's Commercial Pop Chart. With a flair for masterful melodies and undeniably catchy creations, ManyFew continue to leave their indelible mark on the music scene.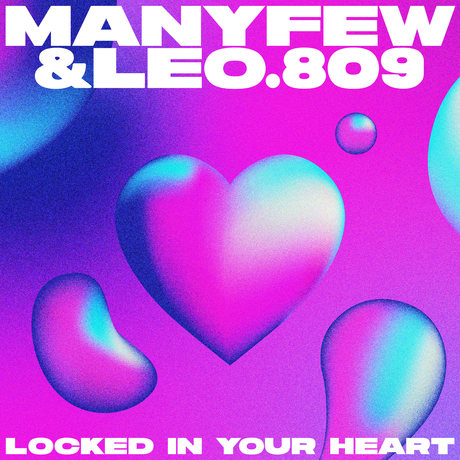 Following the release of their sensational single 'Clouds' on 3 Beat Records, Swedish brothers ManyFew return to the imprint with a momentous follow up single 'Locked In Your Heart'. In collaboration with enigmatic AI producer Leo.809, their latest sun-drenched single is the perfect summer anthem.
 Setting the tone with a catchy, soulful vocal, 'Locked In Your Heart' instantly radiates the feel-good, piano house vibes for which ManyFew have become globally renowned. Bursting with uplifting synths, shuffling percussion and prominent keys, 'Locked In Your Heart' will transport the listener to the dancefloor and have them hooked on its larger than life energy.