SUMMER OF LOVE – FEMALE EXPOSURE SERIES.
Out of 99 weekly shows on KISS FM, only 8 feature WOMEN.
We hope in 2016 to encourage more Women with amazing taste in Dance Music to be on the Radio and help build their profiles [so important in such a male dominated industry] and basically KICK IT like these ladies already are each week on KISS.
LADY OF KISS:    NICOLE MOUDABER
SHOW:                    IN THE MOOD, EVERY MONDAY MORNING 10am – 11am
Coming up to her 88th Show on KISS next monday, Nicole is one irrepressible techno maven!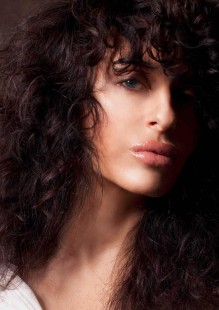 Biography
Moudaber was raised in Nigeria. She moved to London, England after graduating from Richmond College with Social Sciences BS degree.
When she was living in Lebanon, Moudaber was one of the first people to bring dance music to Beirut. After the war in 1996 her "Trashy Renaissance" party in Beirut was the first rave event of its kind and prompted her to bring out international DJs, includingPaul Van Dyk and Anthony Pappa for the first time to the Middle East.Moudaber describes her first party as: "I threw [it] in the middle of Beirut city was in the vicinity of a mosque and a cathedral, it was meant to defy the notion of hatred and prove we can do it together (the new generation) through music. It was a total success."
One of Moudaber's all-inclusive electronic music parties was detailed in the media and resulted in her being summoned by the police:
"At the time Syrians were heavily involved in Lebanon and I had started putting on parties. One happened to be around Halloween and as a result, all the gays took advantage and came dressed up as drag queens and other outrageous stuff—all in the name of fun. It turned out that undercover journalists were scouting the party. They took photos and it ended up being a five-page spread in the Middle Eastern equivalent of Cosmopolitan talking about homosexuality and perversion in the Middle East—my party being heavily featured within this article. Five months down the line I was asked to go down to the police station because the authorities had some questions for me. When I got down there, they were treating me like a terrorist, asking me all sorts of questions about my affiliation with homosexual people and whether I had seen them doing things. It was a really sad and outrageous situation, but luckily I had connections and therefore didn't stay long. It was enough to persuade me that I was wasting my time out there and that these people would never get that sense of ritual and community I was trying to bring within these events, so I very much stuck to London and Europe from there onwards."
Moudaber is listed as a Resident Advisor Top 1000 artist. In 2015, she was ranked as the 100th best DJ in the world by the Resident Advisor top DJs poll.
Info taken from Nicole's wikipedia page: https://en.wikipedia.org/wiki/Nicole_Moudaber