Aussie Artist Sunshine is one of the mainstay artists regularly gigging at some of Melbourne's most popular venues.  Having played records in multi-genre's including, hip hop, jazz, funk, soul, disco, house and techno, it's no surprise her career has brought her to creating her own themed club nights.  Sunshine is now gearing up for the release of her latest new records in the 'Gospel House/Techno/Soul' genre's due out this Summer.  Sunshine has engaged a number of vocalists to collaborate with and is developing a choir, to perform on the songs and her performances.  The Choir is called the 'Disco Faith Choir.'
Rewind
Melbourne DJ Sunshine say's her sets are all about "fun". Earning her stripes in a myriad of different spaces around town, she's created a sound that is truly her own. What gives her the edge is sheer versatility – you're just as likely to hear bleeding-edge techno alongside tech house, house and disco all in the space of one beer. Hapno is the sound and it sure ain't coming from anyone else.
As a teenager growing up in Perth, Sunshine first tapped into the illegal rave scene to nurture a growing interest in dance music. Several years on the dancefloor led to her first vinyl purchase, exploring the worlds of hip hop, jazz, funk, soul, disco, house and techno. By the time she moved to Melbourne in 1998, she'd amassed her first crate and a dream to DJ. Within a year she'd garnered her first gig, at a small party in Port Melbourne. Naturally, she started playing bars around town, eventually working her way up to sets in the side rooms of the bigger parties such as 33 & 1/3.
By 2003, Sunshine had turned enough heads to be offered a weekly 5hr set at Revolver on Saturday mornings, a reasonably prestigious set in the grand scheme of things. She grabbed the chance with both hands and made it her own. 2013 saw the monumental celebration of her 10 year Anniversary.
Apart from dominating the Melbourne club scene with her "Happy feel good" DJ sets, Sunshine has also been focusing on production work and in 2013 released her first original track 'Heartbreaker' which became a house anthem and reached #9 in the Aria Club Charts, 'The Only One' peaked at #4and her new track Twisted is currently killing it on the dance floor.
With gigs as large as the Big Day Out and Stereosonic under her belt, and residencies at Revolver, Poof Doof, Survivor, Power Station, Circus, Anyway and Tramp – Sunshine is a busy lady.  What's more she is a regular at events staged by the like of  Thick As Thieves, Novel, Earthcore & Hardware.
Oh and also a Onelove digital mix cd last year!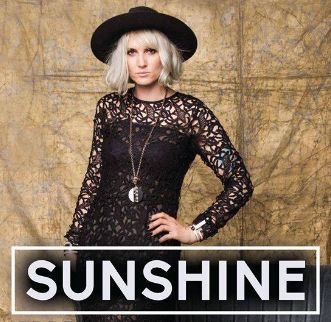 Aussie DJ/Producer 'Sunshine' and her Management & Production company 'Team Sunshine Productions' are launching three events for Summer 2016/2017, running from Dec to April.  The initial event to launch the Sunshine brand/concept and first single is scheduled for Friday 23rd December at the 'Prince Bandroom' & the event is called: 'Sunshine's Midnight Mass' which is a late night event concept.
FYI 'All Nighters' were the beginning of the dance much culture in the UK, starting in the North of England in the Liverpool / Manchester region in the late 1960's.  These events and DJ's became synonymous for introducing and focusing on playing the most upfront and underground dance records in the world, which at the time were coming from the USA, in particular from Detroit, Chicago, The Midwest and the South, but later extended to the East and West Coasts of the USA.
Sunshine is also set to release a new track called: 'Here to Stay' – Sunshine featuring Amanda Perry & Disco Faith Choir, which she will premiere on the night of the gig.