With the release of their new album The Sun last week and the pending The Sun Tour due to kick off in January 2022 – Bliss n Eso's Max (Eso) jumps on a call with Timmy to talk about the album, tour and all things Bliss n Eso. Listen up at 5pm!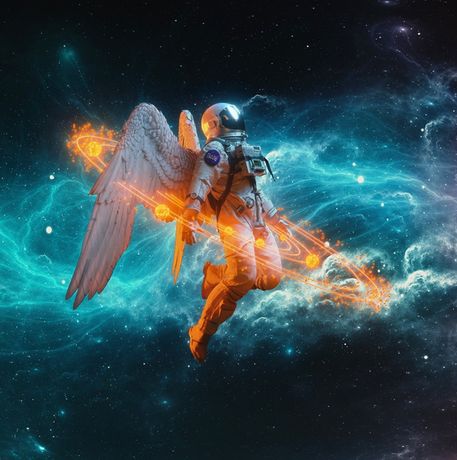 Bliss n Eso, one of Australia's premier hip-hop acts, have returned with a polychromatic seventh album in The Sun on Flight Deck/Mushroom. And, as a group that has grown up through their music over many years, The Sun is initiating a new cycle.
The Sydney trio – MCs Bliss (Jonathan Notley) and Eso (Max MacKinnon), plus DJ Izm (Tarik Ejjamai) – last issued 2017's Off The Grid, a pivotal album especially for Eso, who shared his personal struggles with alcohol dependency and behind-the-scenes drama. Off The Grid became Bliss n Eso's third consecutive #1 on the ARIA Albums Chart. It even generated their biggest hit in 'Moments' featuring Irish singer/songwriter Gavin James (which has amassed 53 million streams on Spotify alone). Additionally, 'Moments' scored them an ARIA for 'Best Video'.
An album that provides solace in this age of disquiet, The Sun thematises contemplation, healing and fortitude – as heralded by 2020's prescient single 'Lighthouse', featuring South London soulster Jake Isaac (and sampling Set Mo's Balearic house 'White Dress'). "It's about the inner-light within you and knowing that in those dark times, you don't need to look elsewhere for guidance – it's all within you," says Bliss of the song.
On The Sun, Bliss n Eso arrive as chroniclers – universalising their travails as individuals, friends and collaborators. "We've been on this ride from the beginning and, when you're on the ride, you don't really get to look around at everything and take it all in," Eso states. "Being able to be at this point in time and look back at our whole career, it was like getting a new perspective on everything that we've gone through… But, every time we do go into the studio, we just try and have fun, because that always reflects in the listener. If we have fun making the album, then the listener has fun listening to it."
Bliss n Eso have long juxtaposed light and dark, blissful and melancholy, and strong and vulnerable. Nonetheless, The Sun finds hope in somber experiences, heightening its sense of release. There's symbolism, too: Bliss n Eso decided to title the album The Sun after rescuing a rainbow lorikeet – Eso recognising a parallel with not only the Greek myth of Icarus, but also the half-celestial entity, half-man, often depicted in their artwork, with its bright rainbow-coloured wings eerily mirroring the lorikeets. "The bird went too close to the sun; fell down into the garden right in front of us," he recollects. "So we brought it back to life, just like the music."
The Sun again reveals Bliss n Eso's bold sonic spectrum, ranging from nostalgic boom-bap to psych-soul to trap. "We love variety," Bliss enthuses. Indeed, Eso considers their music in terms of "mood", rather than genre. "We don't like to have one mood which just runs through a whole album. Sometimes I'll wake up in the morning and I'll want something inspiring for the day that's uplifting, and then sometimes l'll wake up and I just want to hear Ol' Dirty Bastard. So I want that feeling across the album where we have songs for different moods you might be in."
For The Sun, Bliss n Eso solicited guest vocalists such as ChillinIt, Dizzee Rascal and Australian country legend Kasey Chambers. But any curation is determined by chemistry over playlist strategising. "When we start going onto recording the album, we never really go, 'OK, these are the people we want on it and let's make that happen,'" Eso notes. "It always happens organically."
The Sun opens with the epic 'The Prophecy' – its cinematic monologue delivered by Australian actor David Field, iconic for his roles in Two Hands, Chopper and The Rover. Bliss n Eso befriended Field performing at a FilmInk Awards afterparty in 2006. Eso laughs, "David came backstage and he went, 'Boys – that was amazing. That crowd was a bunch of suits and you went out there and said, Fuck you, fuck yeah, let's get going.'" During The Sun sessions, Bliss realised that he'd kept Field's number in his phone and tried dialling. "David answers, 'Bliss, what can I do for you boys?'" Bliss n Eso prepared a script and Field attended the studio.
Many of the songs on The Sun document life's passages. The lilting 'Daddy's Caddy' is an ode to Bliss and Eso's respective partners, while the poetic, piano laden 'Lost With You' (spotlighting dynamic electro-popster BOI) extols unpretentious pleasures and domestic tranquility. Released as a double A-side single alongside the flex 'Send It' in November, 'So Happy' features Canadian MC SonReal and sees their trademark lyricism weaved with misty synths, sharp percussion and an oh-so-big chorus to create another monster hit. Eso remembers becoming a first-time father and feeling conflicting surges of anxiety and contentment. Conversely, in 'Know Yourself', the hook sung by rising Sydney indie-type Fergus James, Bliss recalls how, as a nerdy kid, he was bullied. "I'm an older version of myself speaking to the younger version of myself and saying, 'Hey, everything's gonna be cool, man – just know who you are as a person and don't let any of that get to you, because you're going to look back on that and laugh.'"
In the tuneful 'Good People', with ARIA Hall of Famer Kasey Chambers, Bliss n Eso address the tragic passing of stuntman Johann Ofner on the set of 2017's 'Friend Like You' video – and the aftermath. "The song is about that really fundamental, really strong inner-circle of friends and family that you have that comes together and rallies around you at times of despair and adversity to help you get through it," Bliss says. "It's a testament and it's a celebration of those good people in your life."
The Sun's bluesy centerpiece, 'Cadillac Outta Hell', follows Bliss n Eso's greater journey – the three reconnecting with Lee Fields, the septuagenarian soulster who elevated Off The Grid's 'Friend Like You' and 'Soul Glo'. Bliss, born Stateside, and Eso discovered that both of their fathers once drove Caddys. "My dad had a 1976 Cadillac de Ville," Bliss says. "It was our family car. We called it 'The Boat'. I had no idea but, when Eso spent time in LA, his dad actually had an old school Cadillac as well. It was blue and it was called 'The Whale'. Now, while recording this album, somehow this information came out – and it blew us away!" Bliss n Eso allegorise a drive in the infamous 'land yacht' to narrate a tale of rock star excess and rejuvenation.
Above all, Bliss n Eso are keen to assert their grassroots legacy as spitters – cue the trap banger 'OG's' with South-Western Sydney grime phenom ChillinIt. They clicked with ChillinIt at Darwin's Raindance 2020. "It was awesome," Bliss raves. "We were on the same bill; he was on just before us and he ended up jumping up in our set. It was just a mad moment where the crowd lost it. It was really sick energy. We just kicked it after the show and the next day and ['OG's'] kind of happened organically".
In the past Bliss n Eso have collaborated with credible international MCs: Xzibit, RZA and Nas. For The Sun's rockin' 'On One', they challenged UK grime trailblazer Dizzee Rascal and buzz New Zealand rapper KINGS to complement their multi-syllable rhyme schemes. Eso simply reached out to Dizzee via Instagram. "He's like, 'Man, I know you guys. I played with you guys at a festival in Australia. I love Australia. Let's work!'"
Even amid the COVID-19 pandemic, Bliss n Eso have previewed The Sun live. In April, they were a part of the Music From The Home Front concert at Melbourne's Sidney Myer Music Bowl, broadcast on Channel 9. Then, over winter, Bliss n Eso hit the road for sold-out national dates. "It's been a crazy journey through COVID," Eso admits. "So to finally have new music dropping, to go on tour, to get back out there doing what we love, it's just bloody exciting."
Two decades in, Bliss n Eso have changed and adapted – but never compromised. Mind, while The Sun triumphs that longevity, it ultimately transcends era, bridging generational divides. "We're still super relevant – as we always have been," Bliss concludes. "We've still got a massive fanbase that have stuck through the years with us. Also, we're getting new fans all the time. So music is music for us. It's a beautiful thing that can accompany you throughout your life. It'll evolve, of course, with your tastes and what you like. But it's a beautiful artform you can channel your life through and tell your story. It's a nice thing that can accompany us through our journey. I feel like we're just blessed to be able to do this and we're still together. It's rare that bands are still together at this point in their career, you know? That's a beautiful, sacred thing that we should be grateful for every day."
THE SUN IS OUT FRI 27 AUG THROUGH FLIGHT DECK/MUSHROOM

blissneso.com | facebook.com/blissneso
Twitter @blissneso | Instagram @blissneso
Spotify | Apple Music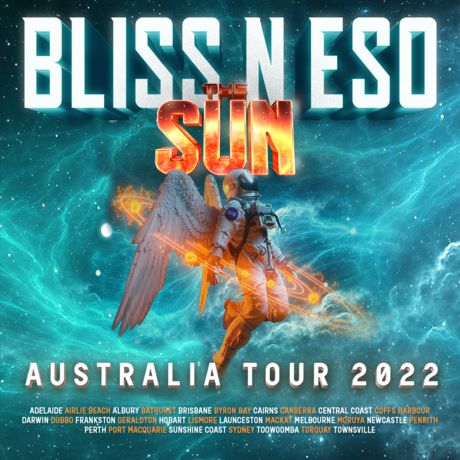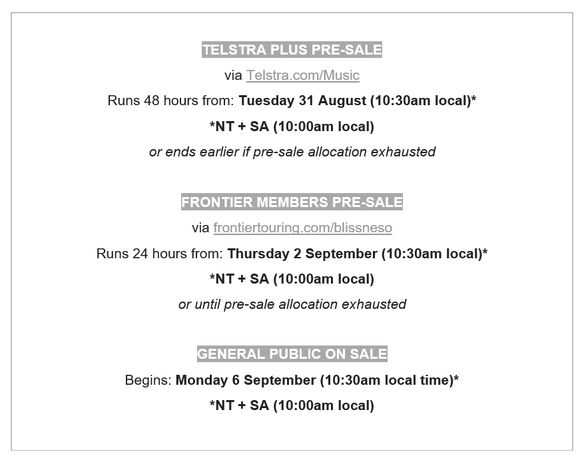 More Posts for Show: The Beautiful Drive