PLUTONIC LAB -LIVE ON STRICTLYOZ HIPHOP SHOW
Next Tuesday night Plutonic Lab is Live in the Studios to Co Host the show with Cook & Big Dip showcasing some of his greatest tracks from over the years and spinning some of his OZ HipHop Favorites, this is one show not to miss.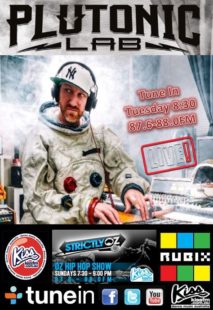 Australian music producer, artist and performer Leigh Ryan aka Plutonic Lab has provided the backdrop for countless artists over a mammoth career spanning two decades, collaborating on over 80 releases locally and internationally including with G-Love (US), Dialectrix, Drapht, Hilltop Hoods, Fatlip (US) and Wiley (UK). Plutonic Lab notably produced Dialectrix's 2013 album The Cold Light of Day which was shortlisted for the Australian Music Prize, won the 2009 UK Mercury Prize for his work with Speech Debelle, and was nominated for 'Best Urban Release' at the 2008 ARIA Awards as half of hip-hop duo Muph & Plutonic.
Following the success of his critically acclaimed album Codes Over Colours (2005), the Australian Music Prize nominated and Mercury Music Prize winning producer will drop his fourth solo album Deep Above the Noise on June 17, 2016 via Wax Museum Records