This Friday please join us for a very special Beautiful Drive Show 4-6pm.
Being the very last show before the big KISS move next week !YAY! to new our On-Air Studio on Sydney Road – Timmy couldn't be happier to really smash this one up with Special Guest – the one and only Mr Mikey Cahill AKA DJ Joey Lightbulb!
And what is Mikey Cahill up to you ask? WHAM BAM THANYOU FAM of course!
Wham Bam Thank You Fam debuts indoors in the heart of Footscray, a mini-festival in a laneway. Sound familiar?
That's because Laneway Festival co-founder Jerome Borazio is teaming up with our man about town Mikey Cahill (DJ Joey Lightbulb) to put on a fun disco for families, friends and anybody who likes a Sunday session.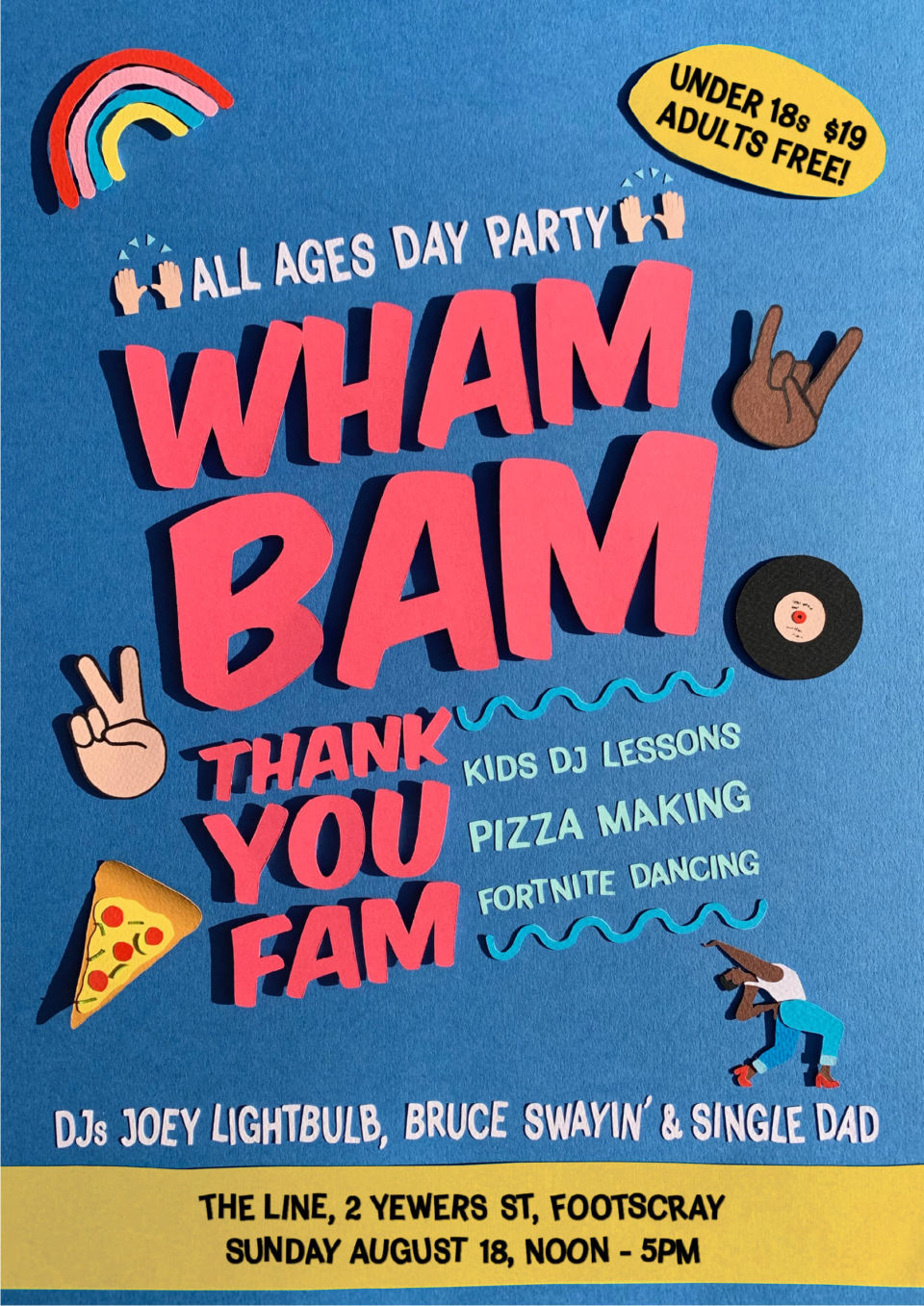 MORE ABOUT THE EVENT:

Extended fam, this one is for you. Kids become superstar DJs with on-the-spot lessons, learn how to make their own Slice Girls pizzas, compare moves in the Fortnite dance zone, use textas on the walls in the drawing room aaaand there'll be a surprise Unicorn appearance.

Grown-ups can drink and carry on knowing their kids are safe a few metres away. No helicopters permitted.

DJs Joey Lightbulb, Bruce Swayin' and Single Dad will play floaty disco, crunchy rock, indie bangers and a few Pixar classics for maximum
interpretative dance.

"It's a simple idea: provide a big, comfortable space parents can have a few drinks while their kids are entertained nearby. I have two kids that I'm aware of and I want them to run amok for five hours then whisk them home by 5.30pm for the night time routine. The perfect crime," he says. "Facepainting and squeaky animals are fine but we wanna blow minds not balloons. The music will be cool not cringey. This is a kids party parents will enjoy not endure."

Jerome Borazio explains: "I hear the frustration of parents always hanging outside in the cold at sporting events. Sport is great but I wanna build something for people who like being creative and want to encourage their kids to get into art, cooking, dancing, whatever. Wham Bam will be the nucleus."

Wham Bam Thank You Fam,
The Line, 2 Yewers St, Footscray 3011
Sunday Aug 18, noon-5pm.
Under 18s, $19+bf, Grown-Ups, free


More Posts for Show: The Beautiful Drive