If you are a current KISS MEMBER and would like a copy of:
Runninng Trax 2019 | Triple CD
then pop RUNNING TRAX & your full name HERE 
NOT A MEMBER? JOIN UP HERE, then follow the above instructions | MEMBERSHIP IS $55 OR $88 per year
*First In – First Served | This offer is LIMITED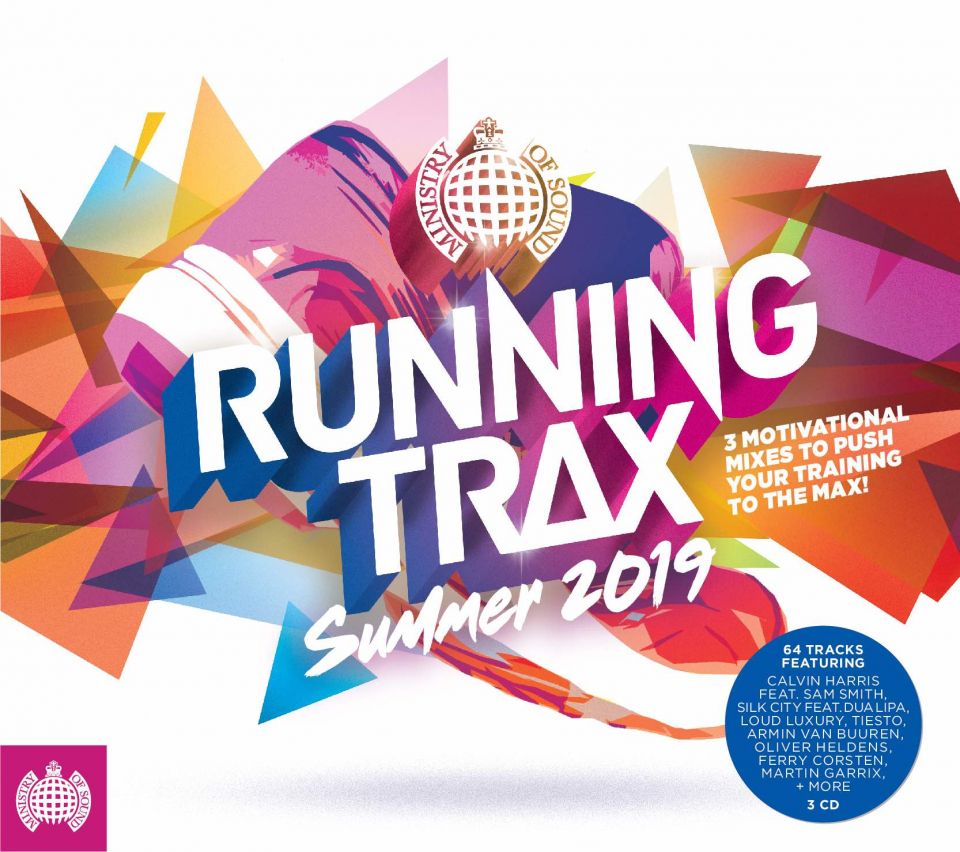 TITLE: RUNNING TRAX SUMMER 2019
ARTIST: V/A
LABEL: MINISTRY OF SOUND AUSTRALIA
RELEASE DATE: 14/12/2018
FORMAT: 3X CD
Featuring tracks by: Calvin Harris, Duke Dumont, Sigala, Silk City, RÜFÜS DU SOL, Clean Bandit, Flight Facilities, Martin Garrix, Armin van Buuren, Jonas Blue, Tiësto & more! 64x tracks for your Summer Workout: Walk, Jog or Run, these are your RUNNING TRAX for Summer 2019!
In Brief:
One of Ministry of Sound's most established and successful brands is the RUNNING TRAX series.  Created at the turn of the decade, it quickly became the go-to music series for gyms around the country.  The last RUNNING TRAX 2017 reaching ARIA certified Platinum status, this makes the series the strongest brand within the Ministry of Sound Australia stables.  Now it's back FRESH for Summer 2019! Whether you WALK, JOG or RUN, RUNNING TRAX Summer 2019 is perfect for a workout at the pace you choose.  Featuring the very latest chart smashers and upfront Club Tracks over a continuously mixed 3x CD Set.
Tracklisting:
DISC 1 : 'JOG'
1/ Loud Luxury feat. Brando / Body [Dzeko Remix]
2/ Calvin Harris feat. Sam Smith / Promises [David Guetta Remix]
3/ Oliver Heldens feat. Shungudzo / Fire In My Soul
4/ The Potbelleez / Go For Gold [Extended Mix]
5/ Dynoro & Gigi D'Agostino / In My Mind [Extended Mix]
6/ Acaddamy / Temperature Rising [Extended Mix]
7/ Wildfire & Sophiegrophy / Now Wait [Extended Mix]
8/ CLiQ feat. Wiley Alika & Double S / Wavey
9/ Paces / Technique feat. Emmalyn & Jeida Woods [Torren Foot Remix]
10/ Duke Dumont / Runway [Extended Mix]
11/ MED33P / This Jam [Extended Mix]
12/ Simon Kidzoo / Too Damn Low [Extended Mix]
13/ Go Freek / Love Is The Weapon [Cut Snake's Love Weapon Remix]
14/ Au/Ra / Panic Room [eSQUIRE Remix]
15/ Damon Hess feat. Chantè Sinclair / Need To Feel Loved
16/ George Kwali feat. Garbrielle Aplin / Dream Enough [Extended Mix]
17/ KC Lights feat. Nicole Dash Jones / Change The World [Extended Mix]
18/ Sigala & Ella Eyre & Meghan Trainor feat. French Montana/ Just Got Paid [M22 Remix]
19/ Don Diablo feat. Alex Clare / Heaven To Me [Extended Mix]
20/ Remady & Manu-L vs I.GOT.U / Heaven [Extended Version]
21/ Little Mix / Only You [Wideboys Remix]
DISC 2 : 'WALK'
1/ Kid Enigma x Riton / Dangerous
2/ Kelis x Freejak / My Milkshake
3/ Silk City feat. Diplo, Dua Lipa & Mark Ronson / Electricity [The Black Madonna Remix]
4/ LSD feat. Sia, Diplo & Labrinth / Thunderclouds [MK Extended Remix]
5/ RÜFÜS DU SOL / Underwater [Club Edit]
6/ JYYE / Fooling Me [Extended Mix]
7/ Sigma / Anywhere [Extended Mix]
8/ Clean Bandit / Solo (feat. Demi Lovato) [Wideboys Remix]
9/ FUTURECLUB feat. Pepper Rose / Next Dollar [Alex Rose Remix]
10/ B Young / 079ME [Alexape Remix]
11/ Julie McDermott / Don't Go [Smokin' Jack Hill Remix]
12/ Crush Club feat. Supermini / We Dance [Supermini Extended Remix]
13/ OTOSAN & Shaun Warner feat. PT / Do You Feel It
14/ Happiness Is Wealth / Move [Extended Mix]
15/ Just Kiddin / Hysteria [Extended Mix]
16/ R3HAB & TH!RDLIFE / Wrong Move [Illyus & Barrientos Remix]
17/ K & K / Mrs Patterson
18/ MK x Jonas Blue x Becky Hill / Back & Forth [Franky Rizardo Remix]
19/ Sons of Zion / Drift Away [OTOSAN Remix]
20/ Flight Facilities / All Your Love feat. Dustin Tebbutt [Morgan Page Extended Remix]
21/ Elk Road & JES / Ghost
DISC 3 : 'RUN'
1/ Martin Garrix & Blinders / Breach (Walk Alone) [Extended Mix]
2/ Jonas Blue x Jack & Jack / Rise [Retrovision Remix]
3/ Armin Van Buuren / Blah Blah Blah [TRU Concept Extended Remix]
4/ Riky Lld & Giulio Chiaramonti / Cruel World
5/ Shift K3Y feat. A*M*E / Entirety [Galantis Remix]
6/ Lifelike & Kris Menace / Discopolis 2.0 [Sander van Doorn Extended Remix]
7/ Deadmau5 feat. Rob Swire / Monophobia [Rinzen Remix]
8/ Gorgon City & JP Cooper / One Last Song [Eli Brown Remix]
9/ GW Harrison / Jammin'
10/ Sonny Fodera & Flash 89 / The System
11/ Wheats / Kassia
12/ Dave Winnel / Acid Trippin' [Extended Mix]
13/ Carmada feat. tribes. / Ready For It [Holy Goof Remix]
14/ Faux / No Mercy [Extended Version]
15/ Tiësto / WOW [Extended Mix]
16/ Two Can / Got Habits [Leon Lour Remix]
17/ Arty / Tim [Extended Mix]
18/ Ferry Corsten & Saad Ayub / Synchronicity [Extended Mix]
19/ Eon / Knocker [Extended Mix]
20/ Press Play / Like This
21/ Sean Finn x Guru Josh / Infinity 2018 [Klaas Remix]
22/ Bodybangers x DJ Muscleboy / #VIKINGCLAP