KISS FM can promote your brand using any or all of the following promotional tools:
On Air advertising via our FM & streaming audience of 100,000+ weekly listeners (15, 30 or 45 second prerecorded advertisements / Live Reads / Live to Air Phone Crosses to your business or event).
Outside Broadcasts from your business or event featuring Kiss DJs going Live to Air.
Our Online offerings including banner ads, skins, site takeovers and web blogs.
Electronic mail outs to our 10,000+ database using the Kisszine.
Social media spikes to out 25,000+ fan base. (Inc tailored paid Facebook boosts that can further extend your audience reach).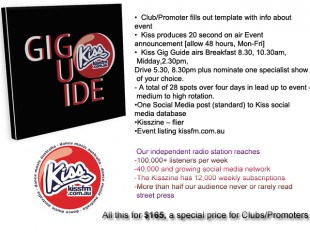 To find out more about how Kiss FM can tailor a comprehensive campaign to suit your budget please fill out and submit the following form.